Movie Information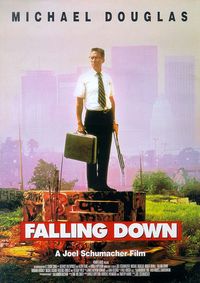 Falling Down
Released: February 26, 1993
Promotional / Bootleg Soundtracks
Review: Falling Down (Blu-ray)
by Dan Goldwasser
May 20, 2009
3.5 / 5 Stars
Michael Douglas\'s portrayal of a man pushed to the edge in Falling Down is still a stark and powerful performance, even to this day.  We first meet recently laid-off defense contractor, Bill Foster (Douglas) as he is stuck in gridlocked traffic, with the heat rising, and the air conditioning not working.  As the frustration level increases, he soon just gets up and leaves his car.  Working his way from downtown Los Angeles towards the beach, Foster encounters all manner of urban characters, from a Korean convenience store clerk, to an overly happy fast-food manager, to a neo-Nazi racist Army surplus store owner, etc.  At every turn, urban Los Angeles seems to throw something at him that only exacerbates his situation, and all he wants to do is get to his daughter\'s birthday party at his ex-wife\'s (Barbara Hershey) place.  Soon Foster is basically a ticking time-bomb, about to snap.  Meanwhile, Sergeant Martin Prendergast (Robert Duvall) is on his last day at work, but insists on investigating the various incidents that have been reported around the city, to track down Foster.
Falling Down is the type of movie that we can all relate to. We have all been in situations like the ones Foster finds himself in (well, maybe not the racist neo-Nazi one, but the others!), and he does what we only fantasize of doing.  Because we haven\'t gone over the edge, we hold back - but when we first meet him, Foster has already snapped.  The resulting wave after wave of politically incorrect scenarios might offend some sensitive viewers, but director Joel Schumacher does a solid job at letting us sympathize with Foster even as we realize we\'re in too deep with him. So much so, that by the end of the film, though we want to feel compassion for Foster, he\'s just too far gone for us to do so.
Released as a "Deluxe Edition" DVD and Blu-ray release, Falling Down sports an impressive new high definition transfer.  The details are clearly visible and light film grain is present, but there is a weird flatness to the blacks that makes it feel like the contrast is a bit off.  Otherwise, though, it\'s a very nice looking transfer.  Audio is presented in a myriad of language selections, and English Dolby TrueHD 2.0, which means that there isn\'t a real surround mix, and it\'s all in the front.  Which is a shame, since some of the sound design (especially the opening sequence) clearly would have benefitted from a more immersive 5.1 remix experience.  James Newton Howard\'s score sounds good, but lacks the real dynamic range that a 5.1 mix could have provided.
The extras for this new "Deluxe Edition" DVD and Blu-ray release are also somewhat lacking.  First up is a commentary track that features not only director Joel Schumacher and actor Michael Douglas, but also screenwriter Ebbe Roe Smith, editor Paul Hirsch, and a slew of others. It\'s not a group chat, but rather a variety of interviews edited together, but it all works rather nicely.  There are a few gaps, but overall I felt it was a pretty informative track, and I found the discussion about filming in Los Angeles around the time of the LA Riots to be some of the more interesting material. 
"Deconstructing D-Fens: A Conversation with Michael Douglas" (SD, 10-min) is an interview with the actor about how he came on board the project, the challenges faced with making the film, and other character aspects that he had to explore. It\'s short and sweet, but leaves me wanting a more substantial behind-the-scenes look at the film.  On Blu-ray, the film has been released in the "Digibook" packaging, and features 30 full-color pages with production notes, press quotes, and photos. Finally, the original theatrical trailer (SD 16x9, 2.5-min) is included.
Falling Down is a controversial politically incorrect film about a man who goes over the edge.  Douglas gives a stand-out performance, and the film still makes you think, even today.  It sports a solid video transfer, decent audio, and the extras are short but sweet.  For a "Deluxe Edition", there should have been a more substantial amount of extras, since the behind-the-scenes footage during the Douglas conversation piece seems like a tease for a longer documentary that doesn\'t exist, but should.  The commentary and new transfer make the disc worth checking out, but unless you\'re a die-hard fan, you might want to rent it instead when the DVD and Blu-ray are released on March 26, 2009.
Missing Information?
If any information appears to be missing from this page, contact us and let us know!