Movie Information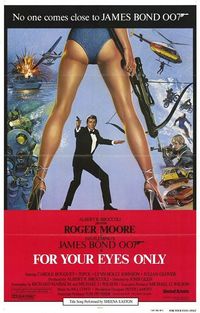 For Your Eyes Only
Released: June 26, 1981
Movie Purchasing Links
Review: For Your Eyes Only (Ultimate Edition Blu-ray)
by Dan Goldwasser
October 25, 2008
3.5 / 5 Stars
The twelfth James Bond film, For Your Eyes Only, was Roger Moore\'s fifth outing as the British spy.  After 1979\'s ludicrous Moonraker, the filmmakers sought to return Bond to earth, with a more realistic storyline involving Greek businessman and KGB agent Aristotle Kristatos (Julian Glover), who colludes with the Soviets to gain control of the ATAC system - one that is used to coordinate the Royal Navy\'s fleet of Polaris submarines.  This Cold War storyline finds Bond teaming up with Melina Havelock (Carole Bouquet) who is seeking revenge against Kristatos for the death of her parents.  It\'s a race to see who can get to the ATAC first, and along the way we have ski chases, underwater fights and an exciting attack on a mountainside monastery. The main title sequence is also unique, in that it\'s the only Bond titles to feature the singer on-screen (in this case, Sheena Easton\'s "For Your Eyes Only"). Things get a little creepy when nubile figure skater Bibi Dahl (Lynn-Holly Johnson) gets the hots for the aging Bond, but Topol makes up for that with his great portrayal as Milos Colombo, Kristatos\'s former smuggling partner.
Released numerous times on home video, For Your Eyes Only has been restored for the new "Ultimate Editions" that were released on DVD back in 2006.  Lowry Digital, known for their work restoring such films as Star Wars and Citizen Kane, worked on the clean-up process, and high definition transfers were made, though they weren\'t coming out - until now.  For Your Eyes Only is part of the first "wave" of James Bond releases to hit Blu-ray, along with five other Bond films (all in anticipation of the newest adventure, Quantum of Solace).  The movie looks excellent, sounds great, and has all of the extras previously released on the DVD versions.
Video: Sporting a very clean 1080p image, For Your Eyes Only looks great.  Grain is natural looking, and colors are nicely saturated with great contrast.  Shot in scope, the film truly has never looked better.

Audio: Released in a 5.1 English DTS-HD Master Audio remix, the audio on For Your Eyes Only sounds great.  Music and atmospheric sound effects come from the rears, immersing you in the film.  Sound effects are at times a bit over the top, and Bill Conti\'s score feels horribly dated, but there\'s still a guilty pleasure to the post-disco sound.  The original Dolby stereo surround track is also included, for archival purposes in Dolby Digital 2.0, as well as Spanish stereo and French 5.1 Dolby Digital.
Supplements: This is the "ultimate edition" of For Your Eyes Only, and features all of the extras from the past two DVD releases.  The menu is broken down into a few "thematic" sections, so I\'ll address them here individually.
MI6 Commentary: Three commentaries are included on the disc.  The first one features Sir Roger Moore, and it\'s just about as interesting (that is to say, not very) as the commentary on Live and Let Die. Showing his age, it\'s a very slow track, and Moore is not very engaging. More interesting are the other two commentary tracks.  Hosted by Ian Fleming foundation member John Cork, the first commentary track ported over from the previous DVD release features director John Glen, as well as many of the principle members of the cast from previous recordings.  The third track was also ported over, and features producer Michael G. Wilson, along with members of the crew.  These two commentaries are filled with plenty of details and are worth listening to.
Declassified: MI6 Vault: Four sections here.  The first is "Deleted Scenes and Expanded Angles", which gives us two short deleted scenes (presented in HD), as well as an alternate angle version of "The Death of Locque", which lets you see different angles/takes from the thrilling moment when Bond kicks the car off the cliff.  "Bond in Greece" (SD, 6-min), "Bond in Cortina" (SD, 4.5-min) and "Neptune\'s Journey" (SD, 3.5-min) feature producer Michael Wilson talking over behind-the-scenes footage from the location shoots and underwater filming sequences.
007 Mission Control: This unique "interactive" listing lets you view your favorite moments from the film, organized by category: "007", "Women", "Allies", "Villains", "Mission Combat Manual", and "Q Branch".  "Exotic Locations" (HD) runs 5-minutes, narrated by Maud Adams (Octopussy), and takes a look (using the film\'s footage) of the various world locations that the movie was shot in. In this case, most of the locations are in England, the Bahamas, Greece and Italy. The "Opening Titles - Textless" is also included, featuring a text-free version of the opening titles, which basically provides a HD version of the Sheena Easton music video.
Mission Dossier: Narrated by Patrick McNee (A View to a Kill), the 30-minute long "Inside For Your Eyes Only" was originally included on the 2000 DVD, but has been re-done here in HD. As such, all of the still photographs and artwork looks even better! Interviews were done in SD, so they are presented "windowboxed".  This featurette focuses mainly on the decision to bring Bond back to earth after the absurdity of Moonraker, and provides nice interviews, behind-the-scenes footage, and shows how some of the stunts and action sequences were handled.  Two "Animated Storyboard Sequences" (SD) are also included ("Snowmobile Chase" and "Underwater"), showing the boards set to the Conti film score.  Finally, the "Sheena Easton Music Video" (SD) shows a standard definition, but letterboxed version of the music video, which is a tad different from the main titles.
Ministry of Propoganda: The "Theatrical Trailer" (2-minutes) is shown in glorious HD and looks actually pretty darn good!  "TV Broadcasts" (12-minutes) contains three exceptionally long spots.  Finally, two radio spots (1-min.) are also included in "Radio Communication".
Image Database: An extensive still-frame image database is included in HD, although the photos don\'t seem to take up more room than a SD feature would have.  Broken down into "The Filmmakers", "Portraits", "The Pre-Credits Helicopter Sequence", "Music and Titles", "Gonzales\' Villa / Deux Chevaux Chase", "Cortina & Ski Action", Willy Bogner\'s Ski Action Unit", "Corfu", "The \'Underwater\' Scenes", "Michael Wilson\'s Cameo", "Meteora", "007 Meets the Prime Minister", "Donald O\'Connor Visits the Set", "Doubling 007",  and "Around the World with 007" (foreign posters).
On Blu-ray, For Your Eyes Only is a solid release.  Roger Moore is taking the role a bit more seriously than in Moonraker, and the action sequences make it more enjoyable.  It looks and sounds great, and the extras make this one a worthy addition to your growing Blu-ray collection.
News &amp Articles
Missing Information?
If any information appears to be missing from this page, contact us and let us know!