Movie Information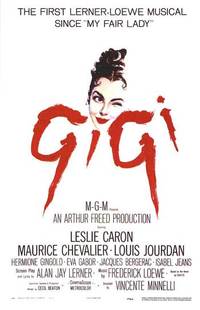 Gigi
Released: 1958
Review: Gigi (Blu-Ray and 2-disc Special Edition)
by Dan Goldwasser
April 5, 2009
4 / 5 Stars
(Note: Portions of this review were originally seen in our DVD-only review posted in September 2008). 
In 1944, the famed French author Colette wrote a story about a rich man who discovers that he is in love with a young woman being trained as a courtesan, and marries her.  Adapted into a feature film in 1948, Gigi found new life in the United States when it was worked into a rather successful Broadway play starring Audrey Hepburn.  The story then caught the eye of Hollywood, and producer Arthur Freed (An American in Paris, Singing\' in the Rain) asked the songwriting team of Alan Jay Lerner and Frederick Loewe to adapt it into a musical.  Famed director Vincente Minnelli came on board, and soon the film version started to roll.  Young Gigi (Leslie Caron) is being trained by her grandmother (Hermione Gingold) and great-aunt Alicia (Isabel Jeans) to become a courtesan.  Gaston, a rich friend of the family, finds socializing with the upper crust to be rather boring, and would rather spend time with Gigi and her grandmother.  He spoils Gigi, giving her expensive caramels and lets her cheat at playing cards.  After a rather public breakup with his current flame (played by Eva Gabor), Gaston is told by his rich bachelor uncle Honore (Maurice Chevalier) to go partying.  But even though he tries, he just can\'t find the spark in life that drives him.  When (after "losing" a bet) he takes Gigi and her grandmother to the seaside for a weekend, he finds that renewed interest in life.  But now Aunt Alicia and Gigi\'s grandmother try to set it up so that Gigi will be Gaston\'s courtesan - but it might just destroy their budding romance.
Gigi is a delightfully adorable film, one that isn\'t without controversy.  The mere idea that an MGM musical is based on the idea of a woman being preened for a life of high-class prostitution is, to put it mildly, a surprising premise.  There is rampant sexism in the film (released in 1958, it takes place in 1900), and there are plenty of allusions to sex and the role of the courtesan in Parisian society.  And yet, it\'s a wholesome family film - go figure.  Chevalier is entertaining as the smarmy womanizing old bachelor, although it\'s hard not to feel some slight perversion when he sings the classic "Thank Heavens for Little Girls".  That\'s just modern society intruding on the movie\'s experience, of course.  The songs by Lerner and Loewe do a great job at progressing the story and providing emotional outlets for the characters.  It\'s no surprise that they would later go on to adapt their successful My Fair Lady for the big screen, and Gigi won a whopping nine Academy Awards, including Best Picture.
Previously released as a bare-bones DVD that sported an unimpressive transfer, the new 2-disc Special Edition (released in September 2008) and Blu-ray releases of Gigi contain an improved image, as well as sound.  The visuals pop, with film grain being present but not intrusive.  Filmed in CinemaScope and Metrocolor, the colors are a bit oversaturated at times, with a high contrast to the overall image. On Blu-ray it feels a tad dark, but Paris certainly looks vibrant and clean! There are hardly any noticeable compression artifacts going on.  Audio on the DVD is presented in a new Dolby Digital 5.1 track that highlights the music (with Andre Previn\'s Oscar-winning adaptation), and dialogue is rather centered, and never obscured.  On Blu-ray, it\'s given a myriad of language options, from Dolby Digital and Dolby TrueHD English, to French, German, Italian, Castilan and Spanish Dolby Mono tracks.
This new special edition contains an audio commentary by AFI trustee and film historian Jeanine Basinger, with new comments by lead actress Leslie Caron inserted into it.  It\'s a rather informative commentary, discussing the problems the film had getting made, the controversial subject matter, and it\'s well worth listening to.  Two short films are also included: "The Million Dollar Nickle" (SD, 9.5-minutes), a propaganda film made to encourage US citizens to send letters abroad to spread the good word about America, and "The Vanishing Duck" (SD 16x9,  7-minutes) a classic 1958 MGM Tom and Jerry short.  The theatrical trailer (SD, 3.5-minutes) is also included (all of these are on the first disc of the DVD release).
The Blu-ray and second DVD disc also contains the documentary "Thank Heaven! The making of Gigi" (HD, 36-minutes).  This in-depth featurette explores the genesis of the film, from the original short story, the 1948 French film, the Broadway production all the way to the 1958 musical film.  New interviews with surviving participants are included, as well as older archival interviews.  The controversial subject matter is explored, as well as the production issues and problems encountered while shooting in Paris.  The rest of the disc is taken up with the original 1948 French version of Gigi (SD, 82-minutes), which is a non-musical.  It comes with a warning indicating that the transfer is from the only surviving print found, and so the presentation leaves much to be desired.  Scratchy black and white images, with sub-par audio and burned-in subtitles, it\'s still a fascinating supplement to include, and well worth checking out to see how it differs from the Hollywood version.
Gigi is a delightful film - one that might surprise modern audiences who haven\'t had the fortune to see it.  The songs are great and the new SE DVD and Blu-ray are overall solid packages.  If you have a Blu-ray player, you might find it worth the upgrade, though the image seemed just a nudge darker than the DVD release, to my eyes.
Movie Ratings
Soundtrack.Net Users

Click stars
to rate.



Missing Information?
If any information appears to be missing from this page, contact us and let us know!