Movie Information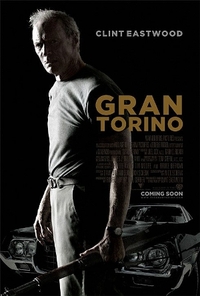 Gran Torino
Released: December 12, 2008
Movie Purchasing Links
Review: Gran Torino
by Dan Goldwasser
December 11, 2008
4 / 5 Stars
At the beginning of Gran Torino, bitter racist Korean war veteran Walt Kowalski (Clint Eastwood) just lost his wife. He doesn\'t have much in common with his two grown children, and finds his grandchildren to be annoying and rude. Now living alone in his Detroit-area house, he\'s diligently keeping the place well kept, while the neighborhood around him is slowly falling into decay, as more immigrants move into the area, much to Walt\'s chagrin. His next-door neighbors are a Hmong family who seem to dislike him just as much as he hates them. When his shy introverted teen neighbor Tao (Bee Vang) tries to steal Kowalski\'s cherished 1972 Gran Torino as part of a gang initiation, Kowalski catches him - and then later confronts the gang when they try to take Tao away. Kowalski goes one step further when he rescues Tao\'s sister from another gang, and now he\'s viewed as a hero by his Hmong neighbors. As Tao works for Kowalski in penance for his attempt at stealing, Kowalski starts to bond with the Hmong people, and teach Tao how to be a man, but the growing gang threat looms large over their relationships.
Directed by Eastwood (this is his second film to be released this fall), Gran Torino is a story ultimately about redemption, and a man at the twilight of his years trying to connect with someone after the death of his wife. Clinging to his prejudices, Kowalski is a man full of conflict, stemming from his experience in the Korean War. A subplot involving a priest, Father Janovich (Christopher Carley), is interesting as well, as it provides the character of Kowalski with an internal struggle regarding his beliefs and desire to confess his sins. Kowalski is like Dirty Harry, in many ways - he\'s stubborn, set in his ways, and doesn\'t give a crap about what others think.
There were a few times in the movie which I felt were a bit too heavy handed, but for the most part, Gran Torino is an excellent film. Balancing humor with drama, Eastwood gives a tour-de-force performance, with his disgruntled sneers, harshly racist slurs, and exasperated sighs of disapproval at the crumbling values around him. The music, by Kyle Eastwood and Michael Stevens, is brief and ordinary - there were a few scenes where it felt like it could have been music-free and it would have worked better. This is a movie that is all about Clint and his performance, and it\'s one that is well worth seeing.
News &amp Articles
Missing Information?
If any information appears to be missing from this page, contact us and let us know!