Movie Information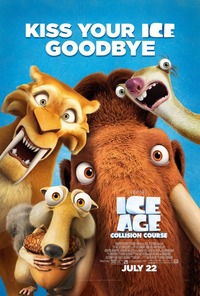 Ice Age: Collision Course
Released: July 22, 2016
Song Credits
ALSO SPRACH ZARATHUSTRA


Written by Richard Strauss

CHECKING OUT THE CAVE from "ICE AGE"


Written by David Newman

BRIDAL CHORUS (FROM LOHENGRIN)


Written by Richard Wagner
Arranged by John Debney

MI PADRINO EL DIABLO


Written by Josué Ricardo Benítez Lozolla and
Martín Castro Ortega
Performed by La Trakalosa De Monterrey
Courtesy of Midas Musical Inc.

CRAZY IN LOVE


Written by Beyoncé Knowles, Eugene Record, Shawn Carter and Rich Harrison
Performed by Sarai Howard
Produced by Ali Dee and Anthony Mirabella

END CREDITS from "ICE AGE: DAWN OF THE DINOSAURS"


Written by John Powell

THE BARBER OF SEVILLE – FIGARO'S ARIA


Music by Gioachino Rossini
New Lyric by Yoni Brenner, Mark Mothersbaugh and Chris Guardino
Performed by Simon Pegg

FIREBALL


Written by Eric Frederic, Armando Christian Perez, Ilsey Juber, John Henry Ryan, Tom Peyton, Joe Spargur and Andreas Schuller
Performed by Ali Dee
Produced by Ali Dee and Anthony Mirabella

LAUNCH


Written by Trevor Rabin
Courtesy of Walt Disney Records

PUTTIN' ON THE RITZ


Written by Irving Berlin

MY SONGS KNOW WHAT YOU DID IN THE DARK


Written by Butch Walker, Patrick Stump, Pete Wentz, John Hill, Andy Hurley and Joe Trohman

ROCK-A-BYE BABY


Traditional

DREAM WEAVER


Written and Performed by Gary Wright
Courtesy of High Wave Music Inc.

LET'S GET IT ON


Written by Marvin Gaye and Ed Townsend
Performed by Don Peake
Produced by Ali Dee and Anthony Mirabella

LE MENUET AFFANDANGADO, OP. 15


Written by Dionisio Aguado y García
Performed by George Doering

WEDDING MARCH


Written by Felix Mendelssohn
Arranged by John Debney

MY SUPERSTAR


Written by Alex Geringas and Nicole Leonti
Performed by Jessie J
Rap Performed by Tha Vill
Produced by Alex Geringas and John Houlihan
Lead Vocal Produced by Thaddis "Kuk" Harrell, Jr.
Jessie J Performs Courtesy of Lava/Republic Records

DREAM WEAVER


Written by Gary Wright
Performed by Trent Harmon
Produced by Ross Copperman
Trent Harmon Performs Courtesy of 19 Recordings, Inc.
Missing Information?
If any information appears to be missing from this page, contact us and let us know!