Movie Information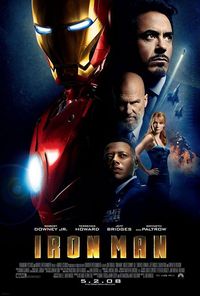 Iron Man
Released: May 2, 2008
Movie Purchasing Links
Review: Iron Man
by Dan Goldwasser
May 6, 2008
4 / 5 Stars
I really don\'t know much about the Iron Man comics books. All I know is that it\'s yet another Marvel Comics superhero except that this is their version of the rich industrialist-turned-crimefighter, kinda like DC Comics\' Batman, but without the pathos. In the film adaptation, Robert Downey Jr. plays Tony Stark, a megarich prodigy who is running Stark Industries, a military weapons developer. When his convoy is attacked in Afghanistan, and he is captured by terrorists who insist he build them a weapon, he realizes that the products he makes are getting into the wrong hands, and he needs to change the path of his company - and his life. He is being kept alive by an electromagnet installed in his body that is keeping the shrapnel from entering his heart - and Instead of building a weapon for the terrorists, he decides to build an armored and weaponized metal suit that will allow him to escape. And thus, Iron Man (Mark I) is born.

Now back at home, Stark finds himself at odds with his business partner Obadiah Stane (Jeff Bridges) who believes that Stark Industries should continue the military contract work. Stark decides that the best thing to do is to perfect his suit design, so he goes to work at it, while apparently growing a relationship with his trustworthy executive secretary Pepper Potts (Gwyneth Paltrow). His tests on the new suit involve perfecting the flying abilities - and a bit of revenge against the terrorists who held him captive, and have been attacking innocent Afghani villagers with Stark Industry weapons. This leads to the involvement of his friend and company military liaison James Rhodes (Terrence Howard), and soon Potts is uncovering a more sinister plot - one that will put Stark and Stane into major conflict for the future of the company.

Iron Man was directed by actor/director Jon Favreau, who has had reasonable success behind the camera in Elf and Zathura. His take on Iron Man is to bring us a superhero that has no special powers other than what he was able to create using his genius and inventiveness, and keep things slick and sharp, but infused with a bit of heart. The casting of Robert Downey Jr. in the title role is excellent - he is fast and witty, entertaining to watch, and plays the part of a playboy businessman perfectly. The pacing of the film is solid, with never a dull moment, and while there are a few small plot points that seem a tad contrived, overall it\'s a straightforward and plausible storyline that effectively presents the creation of a new type of hero. The visual effects were handled by Industrial Light and Magic, and following up on their amazing work on last year\'s Transformers, they are leaping ahead of the rest of the pack when it comes to photo-realistic computer animated devices. The climactic battle between Iron Man and Iron Monger is completely believable.

Music for Iron Man was not handled by Favreau\'s previous collaborator John Debney. Instead this time the music was composed by Ramin Djawadi, who has worked with Hans Zimmer (credited as score producer). The music is edged with hard rock elements, grungy electric guitars, lots of percussion, and a few themes that overall work well in the film, but don\'t scream \"buy the soundtrack\".

Iron Man is part of a larger Marvel Universe of superheroes, as evidenced by Tony Stark\'s cameo in the upcoming The Incredible Hulk feature film, and the post-credits tease of an Avengers film. (Be sure to stay through the end credits - it\'s worth it!) There are two sequels planned for Iron Man, and you can bet I\'ll be looking forward to them. With a fun performance by Robert Downey Jr., a relatively solid storyline and a lot of exciting sequences, Iron Man kicks off the summer of 2008 with a blast.
Trailer Music Used From
Theatrical Trailer
"Hell Above Water" - Curve
"Hey Man, Nice Shot" - Filter
"Iron Man" - Black Sabbath
Teaser Trailer
"Cochise" - Audioslave
"Back in Black" - AC/DC
TV Spots
"Rankle" - X-Ray Dog
News &amp Articles
Missing Information?
If any information appears to be missing from this page, contact us and let us know!