Movie Information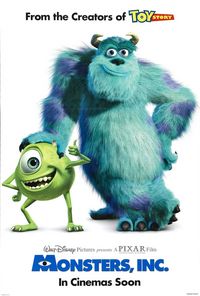 Monsters, Inc.
Released: November 2, 2001
Credits
director

Pete Docter

director

David Silverman

director

Lee Unkrich
Movie Purchasing Links
Song Credits
"If I Didn't Have You"


MUSIC AND LYRICS BY Randy Newman
PERFORMED BY Billy Crystal & John Goodman
PRODUCED BY Randy Newman and Chris Montan and Frank Wolf
Review: Monsters, Inc. (Blu-ray)
by Dan Goldwasser
November 2, 2009
4.5 / 5 Stars
When it was first released in 2001, Monsters, Inc. was the fourth feature-length computer animated film from Pixar.  Directed by Pete Docter, the film takes a rather unique look at the childhood fear of "monsters under the bed". In the monster world, the city of Monstropolis is powered by children's screams.  To help harvest this source of energy is Monsters, Inc., where monsters are able to access children's bedrooms through any of thousands of closet doors which match a bedroom in the human world. (Supposedly the humans are toxic to monsters.)  We're introduced to Sulley (John Goodman), a big furry beast of a monster who is one of the top scarers in the company, and his good buddy, the green one-eyed Mike (Billy Crystal).  When a child, "Boo", accidentally crosses over from the human world into the monster world, the two realize that children aren't toxic, and have to work together to bring Boo back to her home before the management of Monsters, Inc. realize that there has been a breach.
The film does a very good job showcasing the relationship between Mike and Sulley, as well as their slow warm-up to Boo.  The movie was supposed to be released on Blu-ray earlier this year, but was delayed until this November.  The new direct-digital transfer of the film is absolutely gorgeous.  Like A Bug's Life before it, the film is expertly rendered, and while textures might not be up to 2009 expectations, this eight-year-old film looks near-perfect. Colors are vibrant and details, such as Sulley's fur, are particularly impressive.  Audio is presented in English 6.1 DTS-HD Master Audio (mistakenly listed as 5.1 in the menu), as well as French and Spanish 5.1 Dolby Digital.  It's a rock-solid immersive experience, with sound completely enveloping the viewer.  Dialogue is clean and crisp, and Randy Newman's fun orchestral score sounds spectacular.
The Blu-ray carries over most of the extras from the 2-disc "Collector's Edition" DVD, and also adds a few new features.  Starting with the first disc are two new extras.  "Filmmakers' Round Table" (HD, 21.5-minutes), where director Pete Docter, co-director Lee Unkrich, producer Darla K. Anderson and story supervisor Bob Peterson reminisce about their experiences working on Monsters, Inc.,  as well as some of the aspects of the original DVD release of the film.  "Monsters, Inc. Ride and Go Seek: Building Monstropolis in Japan" (HD, 8-minutes) is a look at the new "flashlight tag" ride that just opened up in Tokyo Disneyland - it sounds like a  pretty neat ride, and allowed the Walt Disney Imagineering folks to showcase their state-of-the-art animatronic capabilities.  It also looks at the way Tokyo Disneyland allows Tokyo residents who are used to confined spaces to really get a chance to breathe in a less clustered environment.  From the original DVD releases, we have the clever Oscar-winning animated short film, For the Birds (HD, 3.5-minutes), available with optional commentary by director Ralph Eggleston.  The original made-for-DVD tie-in short, Mike's New Car (HD, 4-minutes) is also included, with an optional "children's" commentary track.  Finally, the feature-length audio commentary for Monsters, Inc. is also available, featuring insightful thoughts and discussions with Pete Docter, Lee Unkrich, Andrew Stanton and John Lasseter.  Not included is a Cine-Explore feature, which would have been a nice exclusive, but I suppose its easier to do that for newer films than older films.
Popping in the second disc, we are faced with a menu very similar to the DVD release: "Humans Only" or "Monsters Only".  A new Blu-ray game, "Roz's 100 Door Challenge" is a cute trivia / interactive game that provides you with 100 questions - once you get three wrong, though, you're "placed" in a position at Monsters, Inc.  "Humans Only" contains the "Pixar Fun Factory Tour" (SD, 4-minutes), an inside-look at the studio facility, toured by John Lasseter.  It's fun and shows off the unique vibe that the company has.  "Story is King" (SD, 2-minutes) looks at the storyboard process, and really strikes home the point that the movie should be as emotionally effective with still drawings as it will be in the final CG render.  "Monsters are Real" (SD, 1.5-minutes) is a quick recap of the movie's premise.  "Original Treatment" (HD, 14-minutes) is the original story pitch for the film, with original concept artwork (newly re-scanned in HD).  "Story Pitch: Back to Work" (SD, 4.5-minutes) shows how they do their pitches at Pixar, with story supervisor Bob Peterson doing a pitch for a sequence in the film.  Five "Banished Concepts" (HD, 9.5-minutes) are presented, again using newly re-scanned artwork and storyboards in HD.  "Storyboard to Film Comparison" (HD, 5.5-minutes) looks at the Boo bedtime scene, in both Storyreel form, and final color.  A split-screen version is also included, and you can flip between all three views with your "alternate angle" button.  There are also four HD "Art Galleries" ("Characters", "Color Script", "Concept Art" and "Posters").
"Designing Monstropolis" (SD, 3-minutes) looks at the from-scratch conceptualization and design of the monster world in the film.  "Set Dressing Intro" (SD, 3.5-minutes) looks at the work that the newly created (at the time) Set Dressing department does to fill the sets with props and create the believable environments for the characters.  Related to that is the "Location Flyarounds" section (SD, 7.5-minutes) which provides slow rotating flyarounds of most of the major locations in the film.  Too bad it wasn't redone in HD - there's a lot of detail here, though! In the "Monster File" section we have a look at the "Cast of Characters" (SD, 6-minutes), featuring the cast and crew talking about the leads characters in the film.  "What Makes a Great Monster?" (SD, 1.5-minutes) looks at the unique character design for the various monsters.
In the rather extensive "Animation" section are a lot of different bits.  "Animation Process" (SD, 3.5-minutes) looks at the overall progression of a shot, from storyboard, to layout, to lighting, to final render.  "Early Tests" (SD, 8-minutes) is a commentary-based test piece that shows Mike and Sulley (looking very different) interacting with each other. "Opening Title Animation" (SD, 2-minutes) looks at the unique jazzy 2D animated opening title sequence, and how it came about.  "Hard Parts" (SD, 5-minutes) explores the technical challenges that Pixar faced with the film, especially fur, hair, clothing and doors.  "Shots Department" (SD, 2.5-minutes) showcases the new simulations team who worked calculating all the movement of clothing, hair and fur.  A "Production Demonstration" (HD, 2-minutes) shows a scene where you can jump (using alternate angles) between storyboards, layout, rough animation, and final render. In the "Music and Song" category, we have "Monster Song" (SD, 3.5-minutes) which looks at the Oscar-winning Randy Newman end-title song. "Sound Design" (SD, 4.5-minutes) is an exploration with Gary Rydstrom looking at the custom sound design developed for the film.
In the "Release" section, we have a quick look at "The Premiere" (SD, 1-minute), followed by two theatrical trailers (SD, 3.5-minutes), four television spots (SD, 2-minutes), a look at how the film was custom rendered/animated for various international locations in "International Inserts" (HD, 1-minute), and the "Multi-Language Clip Reel" (HD, 5-minutes) runs us through a bunch of different dubbed languages over the course of a scene. "Toys" (SD, 1.5-minutes) looks where the real money is made from a film - toys!  "Outtakes and Company Play" (HD, 5.5-minutes) contains all the fake outtakes that were added to the film after it was released in theaters.  Finally, "Wrap Up" (SD, 1-minute) is a quick conclusion of the Pixar tour.
In the "Monsters Only" section of the film, we have the "New Monster Adventures" segment, which features three choices: "Monster TV Treats" (SD, 1-minute), a quick collection of television bumpers; two animations from a Japanese TV show, "Ponkickies 21" (SD, 1.5-minutes); the "If I Didn't Have You Music Video" (HD, 1-minute) which just serves as a quick montage of film footage cut to the song.  "Behind the Screams" features "On the Job with Mike & Sulley" (SD, 2.5-minutes), a fake interview with the two leads about their jobs at Monsters, Inc.  In the "Orientation" section is "Welcome to Monsters, Inc." (SD, 1-minute) a promotional video for the company, "Your First Day" (SD, 3.5-minutes), an orientation film about what to expect when working at the company, and finally, "History of the Monster World" (HD, 1.5-minutes) is a look at the historical schism between man and monster, drawn and narrated by Bud Luckey.
While almost everything from the 2-disc DVD seems to be on here, as well as a few new extras, it looks like we're missing "Guide to 'In' Jokes", "Binaural Recording", and a few galleries.  Still, this is quite the package, and in addition to the two Blu-ray discs, it comes with a regular DVD of the film, and a bonus Digital Copy.  With a spectacular presentation, Monsters, Inc. is finally here and well worth the wait.  I can't say that the missing bits are enough to make me need to hold on to my old 2002 DVD, so this is an upgrade well worth getting.
Missing Information?
If any information appears to be missing from this page, contact us and let us know!