Movie Information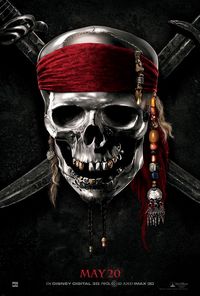 Pirates of the Caribbean: On Stranger Tides
Released: May 20, 2011
Song Credits
"TRIPPING UP THE STAIRS"


Traditional

"JOLLY SAILOR BOLD"


Arranged by JOHN DELUCA, DAVE GIULI and MATT SULLIVAN

"MERMAIDS"


Written by HANS ZIMMER and ERIC WHITACRE

"TANGO"


Written by EDUARDO CRUZ
Review: Pirates of the Caribbean: On Stranger Tides (Blu-ray)
by Dan Goldwasser
November 3, 2011
2.5 / 5 Stars
At the end of the last Pirates of the Caribbean film in 2007, we last saw Captain Jack Sparrow (Johnny Depp) missing his ship, the Black Pearl - but with a special map that would lead to the Fountain of Youth. In Pirates of the Caribbean: On Stranger Tides, the race is on to see who can find the Fountain first: the Spanish, the English, or dread pirate Blackbeard. On the English side, Sparrow is hired by King George II (Richard Griffiths) to guide an expedition to find the Fountain, led by rival Captain Barbossa (Geoffrey Rush), who is now missing a leg. But soon Sparrow reunites with Angelica (Penelope Cruz), his former lover - and daughter to Blackbeard (Ian McShane) - and is soon captured by Blackbeard and forced to help him find two chalices related to the Fountain. In the process, we encounter Philip (Sam Claflin), a missionary captured by Blackbeard, and a mermaid Syrena (Àstrid Bergès-Frisbey) whose tear is needed in one of the chalices for the Fountain to properly work. But soon it is revealed that everyone has ulterior motives for wanting to find the Fountain, and former enemies might have to team up to prevent a greater threat.
Directed by Chicago and Memoirs of a Geisha's Rob Marshall, Pirates of the Caribbean: On Stranger Tides feels more like a dead fish compared to the previous outings, and lacks the fun spirit of the original film: this is certainly the low point of the series. It's hard to fault McShane, who does the best with the material he's given, but Depp feels like he's phoning it in, only occasionally giving us the playful spark that made his character so entertaining. Penelope Cruz tries her best to be sultry, and the always excellent Geoffrey Rush gives a new twist to Barbossa, so that's not all half-bad. The problem comes from the unnecessary side stories that weigh down the plot, the attempt at a romantic element between Philip and Syrena that falls flat on its face, and a director that was clearly out of his element. You know there's a problem when the film's big action set-pieces don't spark any adrenaline or sense of excitement, no matter how well choreographed they may be. There is one sequence in particular that stood out for me - the mermaid cove. Here, the tension, the visual effects, the action, and Hans Zimmer's frenetic score all came together to work in that "special" Pirates way. But other than that, the film just didn't hold together for me. Another part of the problem might have been that the film was adapted from a novel, On Stranger Tides by Tim Powers, and in an effort to force the square peg of the novel into the round hole of the Pirates universe, things probably got a bit lost-in-translation.
Shot digitally and in 3D, the 2D Blu-ray of Pirates of the Caribbean: On Stranger Tides features a very well done, and slightly too clean, presentation. Detail is impeccable, and there is no film grain at all to contend with; the omission of which actually makes it feel a little less film-like, and a little more 24p video-like. Colors are natural and don't have an overly-stylized saturation to them, and the shadows seem to retain most of the detail, without devolving into inky murkiness. In all, it's a very admirable presentation, one that undoubtedly would look even more stunning in 3D.
Audio is presented in a thunderous immersive DTS-HD Master Audio English 7.1 mix that will shake your floors and rattle your windows. Dialogue is clean and centered, while sound effects wash around you and Hans Zimmer's score keeps the action moving forward. Your subwoofer will keep punching your kidneys, and your ears might not stop ringing for a few hours afterwards, but this is one heck of an active track. In addition to the main track, French and Spanish DTS-HD HR 7.1 tracks are provided.
As far as supplements go, Pirates of the Caribbean: On Stranger Tides probably showcases the least number of extras of all the Pirates films. We start off with a feature-length commentary track from director Rob Marshall and executive producer John DeLuca. The track is a little languid and contains more than its fair share of back-patting and lauding the talent involved in the film, but there is still plenty of interesting and insightful information imparted. In particular, Marshall talks about the similarities between dance choreography and stunt choreography, the challenges faced with filming in 3D, some of the plot issues and how they resolved them, and (most importantly) how they tried to make this film stand apart from the previous trilogy (for better or worse).
"Bloopers of the Caribbean" (HD, 3-minutes) gives us a few blunders and gaffes on the set, and "Lego Pirates of the Caribbean" (HD, 5-minutes) provides us with a few side-story vignettes done in the very humorous and tongue-in-cheek Lego style (anyone who has played the various Lego games knows how they put their own spin on some classic film moments). The only other extra is what I feel to be one of the coolest cross-media ideas I've seen: Disney Second Screen. First they did it for Bambi, then Tron Legacy and The Lion King. And now with Pirates of the Caribbean: On Stranger Tides, they give us direct access to so much production artwork, stills, concept drawings, storyboards, visual effects progressions, behind-the-scenes clips, and more, it's so incredibly impressive. And once you first run the app (on your iPad or on the computer), it unlocks the full thing, so you can explore it on your own, away from the film. Truly impressive stuff, and I can't wait to see what they do with it in the future. Unfortunately missing from this release are any real "behind the scenes" making-of featurettes, and deleted scenes - all of which are, apparently, only on the 3D Blu-ray release of the film. And still, no trailers. Oh well.
Sluggish and bloated, Pirates of the Caribbean: On Stranger Tides has some entertaining moments, but in the end, falls flat. While it sports a very good presentation on 2D Blu-ray, and has a reference quality sound mix, the meager sampling of extras means that you should either buy the 3D version if you want the full experience, or just rent it. But that presumes you have an interest in seeing Jack Sparrow's latest (although probably not last) adventure at all.
News &amp Articles
Missing Information?
If any information appears to be missing from this page, contact us and let us know!