Movie Information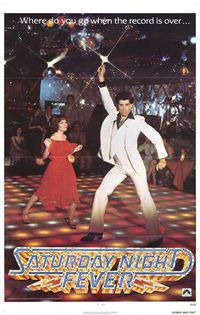 Saturday Night Fever
Released: December 16, 1977
Promotional / Bootleg Soundtracks
Review: Saturday Night Fever (30th Anniversary DVD)
by Dan Goldwasser
September 23, 2007
3.5 / 5 Stars
Now considered a classic of a bygone era, Saturday Night Fever is a rather stark and surprisingly depressing look at slice of life in Brooklyn in the late 1970s. Tony Manero (John Travolta) is obsessed with Al Pacino, works at a hardware store, delivers paint, hangs out with his friends, and takes mental abuse by his parents, who don\'t see him doing anything of value with his life - unlike his brother Frank (Martin Shakar), who joined the priesthood. The only break he gets is at night, when he and his buddies hit the local discotheque, Club 2001, and heat up the dance floor. Tony has the hots for dancer Stephanie (Karen Lynn Gorney), and they agree to dance together in a competition. Unfortunately, this means Tony is ditching is current dancing partner Annette (Donna Pescow), who has the hots for him. Will Tony escape from the trapped life he has in Brooklyn, and eventually make a name for himself? Or will he resign himself to a dead-end future, working at the hardware store?
The film succeeds on numerous levels, both emotional and visual, with the messages of disaffected youth and the uncertainty of the future resonating even today. From a visual perspective, the film\'s dance sequences are memorable, and director John Badham made sure to film Travolta\'s dancing fully in frame, so you can see that it is not a dance double doing the complicated choreography. The music is snatched from the height of disco, with the Bee Gees providing five original songs for the film, and featuring a bunch of other \'70s artists like Kool & The Gang, The Trammps and K.C. & The Sunshing Band. Composer David Shire provides some moody underscore, as well as a few disco tunes - most notably his re-interpretation of Mussorgsky in "Night on Disco Mountain".
For the 30th Anniversary of the film, Paramount Home Video has released a new special edition release on DVD. The film has been remastered, but still retains the gritty daytime look-and-feel of most 1970s films. The colors are drab and depressing, but at night - at the disco - the vibrancy really shines. There are a few moments of film artifacts (tears in the frame), which is a shame, and it\'s only an average transfer, with a bit of expected grain visible during the daylight scenes. The reds are a bit too vibrant at times, and bleed out occasionally. The audio for the disc has been presented in a 5.1 Dolby Digital mix in English, 2.0 stereo in French and mono in Spanish. For the English, it\'s a front-heavy mix, with limited use of surrounds, but sounds crisp with a nice balance between the music and dialogue.
Special features include a very informative commentary with director John Badham, which is held over from the previous DVD release. Badham touches upon most aspects of filming, including location scouting, casting, acting, the racism and exploitative nature of some of the scenes, as well as plenty of thoughts on the music and dance sequences. A new retrospective documentary "Catching the Fever" runs about 50-minutes (broken into 5 segments), and focuses mainly on the legacy of the film, the influence it had, the music, the costumes, and John Travolta\'s character. While Badham and many of the cast and crew are featured with new interviews (including composer David Shire), it\'s interesting to note that Travolta himself doesn\'t appear to be involved. Which is a shame considering how important this film was in launching his feature film career.
Other featurettes include a look at the film\'s locations then-and-now with one of the actors, two dancing featurettes where you can learn the moves yourself, and a "70s Discopedia" pop-up trivia track. Missing from the previous release are the deleted scenes, trailer and highlights from VH1\'s "Behind the Music". It\'s too bad, since it ultimately requires a double-dip if you want all the extras.
If you haven\'t seen Saturday Night Fever, then you\'ve probably seen it spoofed or parodied. But it\'s a very well done film that has some great acting by Travolta, excellent music and choreography (if you can get over the fact that it\'s all disco), and is a modern classic worth checking out on DVD.
Missing Information?
If any information appears to be missing from this page, contact us and let us know!