Movie Information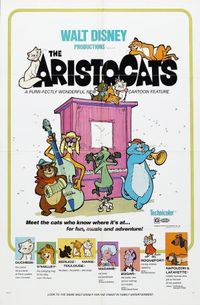 The Aristocats
Released: 1970
Movie Purchasing Links
Review: Aristocats (Special Edition DVD), The
by Dan Goldwasser
February 3, 2008
3 / 5 Stars
Released in 1970, The Aristocats was a cute and jazzy Disney animated film that dealt with the kidnapping of the pampered cat Duchess (Eva Gabor) and her kittens, and their journey back to their mistress with the help of O\'Malley the alley cat (Phil Harris). The events take place in Paris in 1910, and Madame Adelaide Bonfamille, a wealthy socialite, has decided to leave all her money to her cats, and then when they pass on, to her butler Edgar (Roddy Maude-Roxby). Eavesdropping (and mistakenly believing that each cat will live nine times - and thus outlive him), Edgar decides that the best way to get the inheritance would be to dispatch of the cats. He kidnaps them, but before he can drown them, he is attacked by two hound dogs - Napoleon and Lafayette. Now lost in the middle of nowhere, Duchess and her kittens encounter O\'Malley, a swingin\' cat who offers to help them out. The dichotomy between the two classes (one upper class socialite cat, and a beatnik jazzy cat) creates some entertaining dialogue and situations as they work their way back to Paris where they encounter O\'Malley\'s hip cat buddies led by Scatcat. In the meantime, Bonfamille\'s horse Frou-Frou (Nancy Kulp) and Roqueford the mouse (Sterling Holloway) are working hard to solve the mystery of the disappearing cats, and it all climaxes in a confrontation between the cats and Edgar.
The Aristocats is not one of the best films to come from the Walt Disney Animation Studios, but it tells an enjoyable story, and features a groovy jazz-infused score by George Bruns, with songs by the Sherman Brothers, with the highlight being "Ev\'rybody Wants to be a Cat". The animation style is rougher than other Disney films, with a slightly haphazard sketchy approach to it instead of the clean lines that some might be used to. With this new "Special Edition DVD" release of the film, the image has been cleaned up nicely and while it\'s a tad grainy, the colors are deeply saturated and it looks great - especially when compared to the old open-matte version released around 2000. Audio is good, but fairly front-heavy, with a rather monaural sound to it, with the exception the music, which is really the only thing to hit the surrounds, and even then it\'s still a fairly centered soundscape. In addition to English Dolby Digital, French and Spanish are also provided, and even the songs have been sung in their respective languages.
Originally announced as a 2-disc special edition to be released last March, The Aristocats is only a single disc, with a few bonus features that are nice, but hardly qualify it as a "Special Edition". First up for the kids (in "Games and Activities") are two games: "Virtual Kitten" which lets you care for a cat, and if you use the DVD on your computer, you get a few extra features; and "The Aristocats Fun with Language Game", which lets you learn the names of the musical instruments played by Scatcat\'s band. They\'re pretty simple, but will keep younger children entertained.
The "Music and More" function lets you watch the song sequences in the film individually, with or without lyric-subtitles. A deleted song, "She Never Felt Alone" is actually supposed to go in two places in the film, and this 8-minute featurette is hosted by songwriter Richard Sherman. He explains the origins of the song, and where it fits into the film. They also include original storyboards and the unearthed recording to put it all in context.
"Backstage Disney" only has three sections. The first is a disappointingly short bit, "The Sherman Brothers: The Aristocrats of Disney Songs", and runs only 4.5-minutes long, but they focus on the songs for The Aristocats, so it\'s hardly an encompassing look at their career with Disney. "The Aristocats Scrapbook" is a rather robust gallery compilation of production artwork, sketch ideas, cast and crew photographs, posters, premiere pix and more. "The Great Cat Family" is a 13-minute long excerpt from a "Wonderful World of Disney" episode in 1956 which features Walt Disney himself talking about the history of cats. Coming 14 years before the film, it has nothing to do with The Aristocats. Finally, a bonus short, "Bath Day" is also included, and features Minnie Mouse and Figaro the cat. There is no trailer included.
It\'s not really much of a "Special Edition", but The Aristocats is an enjoyable jazzy movie that has an improved transfer, fun characters, and a swingin score and songs. It\'s not the best that Disney has to offer from their vault, but it\'s certainly worth checking out if you\'re a fan of classic animation.
Movie Ratings
Soundtrack.Net Users

Click stars
to rate.



Missing Information?
If any information appears to be missing from this page, contact us and let us know!