Movie Information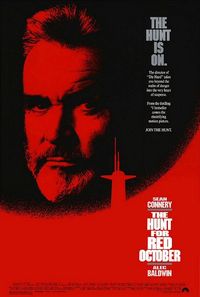 The Hunt For Red October
Released: March 2, 1990
Movie Purchasing Links
Promotional / Bootleg Soundtracks
Honor and GloryAgency Promo
Promotional Release

Released: Unknown

Format: CD (73 min)
Review: Hunt For Red October (Blu-ray), The
by Dan Goldwasser
July 27, 2008
4 / 5 Stars
One of my favorite films, The Hunt for Red October is based on the Tom Clancy novel of the same name.  The Cold War era story follows CIA analyst Jack Ryan (Alec Baldwin) who believes that Soviet submarine Capt. Marko Ramius (Sean Connery) is planning to defect.  With the Soviets trying to hunt Ramius down, and floating the cover story that Ramius has gone mad and plans to fire his nuclear weapons against the USA, can Ryan convince the USA that he is indeed trying to defect - and can they find him before the Soviets?  Directed by John McTiernan, who had directed Predator and Die Hard before turning his sights on Red October, the film is a tightly paced exciting thriller, complemented by Jan De Bont\'s cinematography and Basil Poledouris\' excellent score.
Released in 2003 as a "Special Edition" DVD, the Blu-ray release of The Hunt for Red October includes all of the extras from that disc, as well as a new HD transfer and high quality audio.  The 1080p image is generally clean, showcasing De Bont\'s color palette effectively.  The underwater sequences are a deep cool blue, and the insides of the submarines are great to look at with the silver tones, reds, and blues.  Sometimes there\'s a bit of speckling and print artifacts, and other times there\'s a weird softness to the image.  But for the most part, The Hunt for Red October has a solid visual transfer - it just won\'t blow you away.  Audio is presented in English 5.1 Dolby True HD, and French/Spanish 5.1 Dolby Digital.  The presentation is excellent, especially while in the submarines - the immersive quality of the mix truly shines, and the crispness of the dialogue is complemented by Poledouris\' score coming at you from all sides.  The main title sequence is still one of my favorite pieces he wrote, and it\'s glorious to behold on Blu-ray.
As mentioned previously, all of the extras from the DVD are on this Blu-ray - but that\'s not saying much when you realize how sparse they were on DVD!  John McTiernan provides a rather sparse and dry commentary track that seems to have lots of silence between the informative information nuggets.  Better is the 30-minute documentary "Beneath the Surface", which contains interviews with producer Mace Neufield, actors Alec Baldwin, James Earl Jones, Sean Connery and Scott Glenn, and explores the filmmaking process from development and pre-production through to the release.  Topping off the extras is the original theatrical trailer, presented in 1080p HD.
The Hunt for Red October still remains one of my favorite films, and is one of McTiernan\'s best works (along with Predator and Die Hard).  It\'s a shame that the extras are so sparse, but something is better than nothing, and with a much improved transfer and good audio, it\'s a no-brainer to recommend you pick this Blu-ray up.
Trailer Music Used From
Theatrical Trailer
"Original Trailer Music" - John Beal
Missing Information?
If any information appears to be missing from this page, contact us and let us know!