Movie Information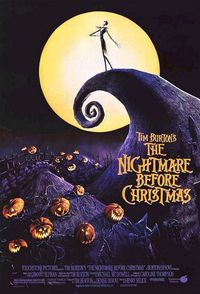 The Nightmare Before Christmas
Released: October 15, 1993
Movie Purchasing Links
2-Disc Collector's Edition:
DVD
Review: Nightmare Before Christmas (Blu-ray), The
by Dan Goldwasser
September 6, 2008
4.5 / 5 Stars
When he was an animator at Disney, Tim Burton came up with a short poem (ala "The Grinch That Stole Christmas") about a Halloween skeleton who kidnaps Santa Claus.  The studio balked at the idea of producing it, so it went back on the shelf.  Years later, with Burton a successful director, the project regained new life as The Nightmare Before Christmas.  The film tells the tale of Jack Skellington, the Pumpkin King of Halloween Town (voiced by Chris Sarandon; sung by Danny Elfman).  Running Halloween isn\'t as fulfilling as it used to be, and Jack needs something new.  When he discovers a portal to the neighboring Christmas Town, he finds new purpose in his life, and decides to give running Christmas a shot.  Unfortunately that means that the guy in charge of Christmas Town, someone named "Sandy Claws", needs to take an unplanned vacation.  Soon a scheme to kidnap Sandy Claws is hatched, and when the denizens of Halloween Town take over Christmas, Jack realizes that he might be out of his realm.  The film was actually directed by Henry Selick, but everything about it just screams "Tim Burton".  The design is so unique and visual, and the collaboration between Burton (who wrote the story and designed the characters, with a screenplay by Caroline Thompson) and composer/songwriter Danny Elfman is so interlocked that you could argue that they both created the film.  It\'s a brisk 76-minute journey but it\'s unlike any animated film you\'ve likely seen. (Well, prior to Tim Burton\'s Corpse Bride.)
The image quality of the new special edition Blu-ray is impressive.  Shot on film, the movie has an excellent photographic sensibility, crisply imaged with great depth of field and clarity.  There\'s a tiny bit of noise reduction, but it doesn\'t reduce the details noticeably and overall this is the best presentation this movie has ever gotten on a home video format, having only been released in non-anamorphic video (laserdisc and DVD) previously.  Audio is similarly presented in superior form, with English, French and Spanish 5.1 Dolby Digital, Portuguese 2.0 Dolby Digital, and an English 7.1 Dolby TrueHD track. Originally released in 1993, the film didn\'t have the most immersive sound mix, but you wouldn\'t necessarily know that from this 7.1 track, which fills the soundscape and presents the dialogue and music so cleanly that you\'d have guessed you were in the room with the actors.  Elfman\'s score benefits greatly from this new mix, with a heartiness to the music that makes it tangible.
Extras on the Blu-ray disc include pretty much everything that had been released previously on laserdisc and DVD, but with a few new bits and tweaks.  First up, we have a (brief) video introduction by Tim Burton, and then a commentary track by director Henry Selick, writer/producer Tim Burton, and composer/songwriter Danny Elfman.  The Selick portions appear to be taken from the original commentary track, which featured him with cinematographer Pete Kozachik, but they dropped Kozachik and only used portions of Selick\'s comments to add to the new comments by Burton and Elfman.  A shame that they didn\'t just give us both tracks, but the comments by Elfman - who focuses on the song development - make this track well worth hearing.  Because Burton isn\'t given a solo track, his comments are more focused than his other commentaries, and he gives a great exploration of the history of the project.
"The Making of Tim Burton\'s Nightmare Before Christmas" runs 25-minutes long (compared to the special edition laserdisc\'s extended 45-minute length), but is a solid and enjoyable look at the making of the film, and the challenges posed with creating a stop-motion musical.  "Deleted Storyboards" and "Deleted Animated Sequences" are short, but provide a little extra insight into some story elements that were dropped.  "Storyboard to Film Comparison" takes a look at the Town Meeting sequence, and three production galleries ("Halloween Town", "Christmas Town", "The Real World") explore the artwork that separate the different worlds explored in the film.  Promotional materials include a poster gallery and two trailers.   Also included are two short films by Tim Burton.  The 30-minute "Frankenweenie", includes a new introduction, and appears to be an extended director\'s cut (only on the Blu-ray release).  "Vincent", an animated film narrated by Vincent Price, is also included.  All these extras are presented in standard definition video.
A few new features include two versions of "What\'s This? Jack\'s Haunted Mansion Holiday Tour" ("On Track" and "Off Track" versions).  This exploration of the seasonal retrofitting of the Haunted Mansion attraction at Disneyland/Disneyworld can be viewed in a short form (7-min) with an optional pop-up trivia track, or the "off track" version, which runs a hearty 37-minutes, and gives us a behind-the-scenes look at the conversion process.  "Tim Burton\'s Original Poem", narrated by Christopher Lee, is a new animated version of the poem that inspired the film, with artwork based on the original production art.   Finally, for those who have it, D-Box Motion Code is available for those who want to "feel" the movie, and a second disc, with a DisneyFile Digital Copy of the film is available for those who want to slap it on their iPod.
The Nightmare Before Christmas is probably one of Tim Burton\'s most imaginative and best projects; similarly, it is one of Elfman\'s best musical works.   The Blu-ray looks and sounds great, and the extras are solid enough to make this a worthwhile purchase.
News &amp Articles
Missing Information?
If any information appears to be missing from this page, contact us and let us know!