Movie Information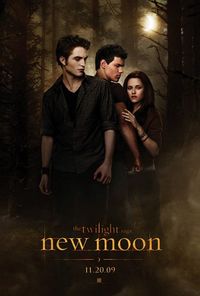 The Twilight Saga: New Moon
Released: November 20, 2009
Credits
Song Credits
Monsters


Written by Steve Schiltz
Performed by Hurricane Bells
Courtesy of Invisible Brigades, LLC

The Violet Hour


Written by Alex Brown Church
Performed by Sea Wolf
Courtesy of Dangerbird Records

Wandrers Nachtlied II, Op. 96, No. 3, D.768


By Franz Schubert
Performed by Ulf Bastlein
Courtesy of Naxos
By arrangement with Source/Q

Satellite Heart


Written by Anya Marina
Produced by Ken Andrews
Performed by Anya Marina
Courtesy of Chop Shop Records/Atlantic Recording Corp.
By arrangement with Warner Music Group Film & TV Licensing

Rosyln


Written by Justin Vernon
Performed by Bon Iver and St. Vincent
Bon Iver appear courtesy of Jagjaguwar and St. Vincent appears courtesy of 4AD
By arrangement with Bank Robber Music

Possibility


Written by Lykke Li Zachrisson
Produced by Lykke Li
Performed by Lykke Li
Courtesy of Atlantic Recording Corp. / Warner Music U.K. Ltd.

I Belong To You (New Moon Remix)


Written by Matthew Bellamy
Performed by Muse
Courtesy of Warner Music U.K. Ltd.
By arrangement with Warner Music Group Film & TV Licensing

Friends


Written by Russell Marsden, Emma Richardson and Matthew Hayward
Performed by Band of Skulls
Courtesy of Shangri-La Music, LLC / Phi / YouAreHere
By arrangement with Zync Music

All I Believe In


Written by Romeo Stoddart, Amadou, Mariam
Produced by Stephen Budd
Performed by The Magic Numbers and Amadou & Mariam
The Magic Numbers appear courtesy of Stephen Budd Management & SuperVision Management Amadou & Mariam appear courtesy of Because Music

Shooting The Moon


Written by Damian Kulash and Tim Nordwind
Performed by OK Go
Courtesy of Capitol Records
Under license from EMI Film and Television Music

Solar Midnite


Written by W. Jaco
Produced by Lupe Fiasco
Performed by Lupe Fiasco
Courtesy of 1st & 15th Productions / Atlantic Recording Corp.

Done All Wrong


Written by Peter Hayes and Robert Been
Performed by Black Rebel Motorcycle Club
Courtesy of Abstract Dragon

Hearing Damage


Written by Thom Yorke
Performed by Thom Yorke
Courtesy of Xurbia Xendless Ltd.
By arrangement with Warner/Chappell Music

Slow Life


Written by Christopher Bear, Christopher Taylor, Edward Droste and Daniel Rossen
Produced by Chris Taylor
Performed by Grizzly Bear (with Victoria Legrand)
Courtesy of Warp Records
By arrangement with Zync Music
Victoria Legrand appears courtesy of Sub Pop Records

Die Fledermaus – Duettino: Ach, ich darf nicht hin zu dir


Composed by Johann Strauss, JR
Courtesy of APM Music

No Sound But The Wind


Written by Smith, Urbanowicz, Leetch and Lay
Produced by Tom Smith
Performed by Editors
Courtesy of Kitchenware Records

A White Demon Love Song


Written by Brandon Flowers, Dave Keuning, Mark Stoermer and Ronnie Vannucci
Performed by The Killers
Courtesy of The Island Def Jam Music Group,
A division of UMG Recordings, Inc.

Meet Me On The Equinox


Written by Benjamin Gibbard, Nicholas Harmer, Jason McGerr and Christopher Walla
Produced by Chris Walla
Performed by Death Cab For Cutie
Courtesy of Atlantic Recording Corp.
Missing Information?
If any information appears to be missing from this page, contact us and let us know!