Movie Information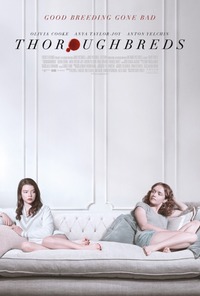 Thoroughbreds
Released: March 9, 2018
Movie Purchasing Links
Song Credits
--SONGS--


Written by Ian Campeau, Timothy Hill, Ehren Thomas & Tanya Tagaq Gillis Performed by A Tribe Called Red Featuring Tanya Tagaq

"Sila"


Courtesy of The Greater Goods Co.
Written by Wendy Wang & Evan Voytas
Performed by The Sweet Hurt

"All The Things"


Courtesy of The Sweet Hurt
Written by Sherman Kelly
Performed by King Harvest

"Dancin' In The Moonlight"


Courtesy of Darbo Music, LLC and Universal Music France
Written by Kim Petras, Lauren Vogel, Eroc, Alyssa Suede, David Campbell & Manifesto
Performed by Rome Will Burn

"Chameleon"


Courtesy of Blue Mask Records
Performed by Irwin Gage & Sibylla
Courtesy of Naxos of America
Written and Performed by Bryan Lurie

"Ellens Gesang III (Ave Maria!): Ellens Gesang III, D. 839, 'Hymn an die Rubens Jungfrau'"


Written by Franz Schubert

"Meditation-Memory"


Courtesy of Bryan Lurie
Written by Tanis Chalopin
Performed by Tanis

"Ce N'est Pas Moi"


Courtesy of Tanis
Written and Performed by Tanya Tagaq, Jesse Zubot, Jean Martin & Michael Edwards

"Uja"


Courtesy of Six Shooter Records, Inc.
Missing Information?
If any information appears to be missing from this page, contact us and let us know!