Movie Information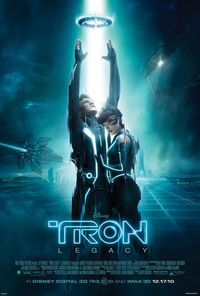 Tron: Legacy
Released: December 17, 2010
Song Credits
"Separate Ways"


Written by Steve Perry and Jonathan Cain
Performed by Journey
Courtesy of Columbia Records
By arrangement with Sony Music Entertainment

"Sweet Dreams (Are Made Of This)"


Written by Annie Lennox and David Stewart
Performed by Eurythmics
Courtesy of Sony Music Entertainment (UK) Limited and The RCA Records Label
By arrangement with Sony Music Licensing
Review: Tron: Legacy (Blu-ray)
by Dan Goldwasser
April 5, 2011
3.5 / 5 Stars
1982's Tron showed us what might be going on inside computers, where programs live in The Grid, and fight for survival against the evil Sarc and his Master Control Program.  At the end of that film, creator Kevin Flynn (Jeff Bridges) - who had been sucked into the computer - managed to escape and take control of ENCOM.  As Tron: Legacy opens, seven years later in 1989, we see that Flynn now has a son, Sam, and has made ENCOM an enormous software giant. But then, one night, he vanished and his shares in the company transferred to Sam, who grew up without a father.  Now twelve years later, Sam (Garrett Hedlund) is the largest shareholder of ENCOM, but hasn't really been involved.  He's been more interested in living on the edge, hacking into ENCOM for fun, and generally making life difficult for executive Alan Bradley (Bruce Boxleitner).  But when Bradley gets a page from Flynn's office at the old arcade - which had been shut down for years - Sam goes in to explore.  He finds a secret lab, with a computer that has been running for over two decades - and then promptly gets sucked into the digital realm when he runs the last command that had been typed into the system.
The Grid is not anything like the Internet; this is a digital realm that evolved independent of anything online; it's all in Flynn's mainframe.  Promptly captured, Sam is sent to compete in the gladiatorial games, where his identity is revealed to the Grid's dictatorial ruler, Clu (a younger digital Jeff Bridges).  After an exciting lightcycle chase, Sam is rescued by Quorra (Olivia Wilde), who is working in league with Flynn to foment a rebellion against Clu.  Finally reunited with his father, Sam learns that Flynn felt that he could make a digital frontier to reshape the human condition. Flynn created Clu to help build the perfect digital world, with the help of Tron (Boxleitner) - but a new life form, isometric algorithms (ISOs) were spontaneously created.  Clu felt that ISOs were an imperfection in the perfect system - so he went bad - causing a genocide of the ISOs, defeating Tron, and forcing Flynn into exile. 
The only way to get Flynn back to the real world is to get to the portal that opened when Sam was sucked in (Flynn had been trapped for 22 years), but Clu sees it as an opportunity to get the army he has been building out into the physical world, if he can steal Flynn's identity disc.  So the race is on, as Sam tries to find a way to the portal and get him and his dad out before Clu can get there. 
Tron: Legacy is, at its heart, a father-son story.  The emotional and rebellious nature that Sam exhibits clearly stems from growing up without a father figure, under the mistaken pretense that Flynn abandoned him - when in actuality he was trapped in The Grid.  Beyond that, the simplicity of the story allows for the visuals to dominate - and oh boy, do they!  The effects in Tron were groundbreaking at the time, and with visual effects having evolved in leaps and bounds since then, it was necessary to show us something in Tron: Legacy that looked like Tron, but with a slickness that 2011 audiences would demand.  Director Joseph Kosinski gives the film a dark look, allowing the glowing neon lights to dominate, with lens flares, reflections, and plenty of glossy figures. It's got a lot of eye candy, (Olivia Wilde in skin tight spandex? Sign me up!) and makes for a fun ride.  Adding to the experience, aside from the stellar and punchy sound mix, is the musical score by Daft Punk.  With a few solid themes, and punchy rhythms and grooves, it might be borrowing a little stylistically from Inception at times, but overall it sticks with you when the lights come up.  Bridges at times sounds like he's more like The Big Lebowski than an aged version of the computer nerd we saw in Tron, Michael Sheen's portrayal of Zeus, the club owner who Sam goes to for help, is completely over the top and ridiculous, and the young digital Jeff Bridges has some issues with the lips which feels a bit odd and makes the effect stand out.  It's by no means a perfect film, but it's sure as heck an entertaining one.
Released in two flavors on Blu-ray (3D and 2D), Tron: Legacy is one of those movies that is more style than substance - but oh, what style it is!  The visual quality is, to put it mildly, near perfection.  Sure there might be the slightest hint of banding in the blue-hued world of The Grid, but everything looks so slick and reflective that it's hard not to revel in the glory of the 3D animation.  I don't have a 3D television or 3D Blu-ray player, so I can't review that aspect of the film, but the 2D presentation does not disappoint.  In theaters, the film was shown at a 2.35:1 aspect ratio in 3D.  But if you were lucky to see it in IMAX, then - like The Dark Knight - certain sequences would open up completely, with the enormous 3D image filling the IMAX screen from floor to ceiling, making it an overwhelming and awe-inspiring affair.  We don't have personal IMAX screens, yet, but the 2D (and I would assume 3D) Blu-ray release of Tron: Legacy recreates the IMAX experience by opening up to the full 1.78:1 aspect ratio of the HDTV, at the appropriate times (again, like The Dark Knight Blu-ray).  It's not distracting in the least, and actually adds nicely to the experience.
Paired with the excellent visual presentation is an eardrum shattering audio mix. The primary culprit: an English 7.1 DTS-HD Master Audio track that will crack your foundations.  Be warned, your subwoofer might strain on this one. It's one of the most energetic and immersive audio mixes I've heard on Blu-ray.  The sound design was insane, certainly worthy of its Oscar nomination for Best Sound Mixing.  Daft Punk's aggressive score fills the soundscape, and there are at least half a dozen sequences in the film that you'll want to show off to your friends.  Additional audio options include a somewhat useless English Dolby Digital 2.0 track, an English Descriptive Video Service track, and French and Spanish Dolby Digital 5.1 tracks.
The extras on Tron: Legacy are substantive, but not as in-depth as I would have hoped.  First off, there is no audio commentary, something that a film with this level of technical prowess clearly was calling for. Secondly, the only real "making-of" production featurette is less than 12 minutes long.  More on that later.  The first major extra comes in the form of "The Next Day: Flynn Lives Revealed" (HD).  After a lengthy introductory montage of fake newsreel footage, interview clips and other media about the "Flynn Lives" underground movement that was happening around the time of the film, we find out a little bit more about what went on after the events in Tron: Legacy.  Full versions of these segmented clips are available by accessing a high-score screen and typing in any of the names on the list - it's clever and gives a little more depth to the story and legend of Kevin Flynn.
The next major extra is the innovative "Disney Second Screen".  Like the one on Bambi, this is an excellent way of adding additional supplemental material to the home theater experience, as you get more information via your computer or iPad in sync with the film as you watch it.  In the case of Tron: Legacy, hundreds of storyboards, filmmaker annotations, visual effects progressions, test animations, 3D rotations, interactive panoramas, behind-the-scenes videos, and much more.  It's a shame I can't make the window a little bigger on my computer screen, but that's my problem - not Disney's!  After a quick tease "First Look at Tron: Uprising, the Disney XD Animated Series" (HD, 1-minute), we finally start to get into the behind-the-scenes supplements.
"Launching the Legacy" (HD, 10-minutes) is a short but informative look at how the filmmakers came up with a sequel to a 1982 cult hit, with interviews of the key cast and crew. The key moment in this segment is the inclusion of the original VFX test that was done to help promote the film at Comic-Con.  "Visualizing Tron" (HD, 12-minutes) is shamefully short, considering how visually mind-blowing the film is.  Still, we learn a lot about the look of the film, with director Joseph Kosinski, as they explore the set design, how they filmed it in 3D, and some of the visual effects. I wish they had spent a little more time on the visual effects technologies developed for the film, but what can you do?  "Installing the Cast" (HD, 12-minutes) is a look at the characters in the film, and how the various actors came to be attached with the film.  The most interesting part was how they managed to get both Bridges and Boxleitner back, and what it was like for them to revisit the world of Tron.   (The rest of the actors were barely old enough to see it in theaters when it came out!)
"Disc Roars" (HD, 3-minutes) is a short fun bit showing how the director used the Comic-Con audience to record crowd chants for the film - much like what Peter Jackson did with a rugby game for The Lord of the Rings.  (Hey, a captive audience can be useful!) I wish they had put a featurette together exploring the music of Tron: Legacy, but instead the only music-related extra is a music video: "Derezzed" (HD, 3-minutes), which was written, produced and performed by Daft Punk. It's a neat video, since they made it look like the old 1982 Tron instead of this new polished film, but it would have been nice if they included something about the production of the score, which they reportedly worked on for over two years.
The lack of an audio commentary and comprehensive documentary makes me wonder if there might be something more planned down the road for Tron: Legacy.  I don't think so, but you never know. In the meanwhile, a stunning presentation on Blu-ray, along with a reasonable amount of extras and a very impressive Disney Second Screen function, adds up to an entertaining popcorn movie that is a feast for your eyes and ears.
Missing Information?
If any information appears to be missing from this page, contact us and let us know!