Movie Information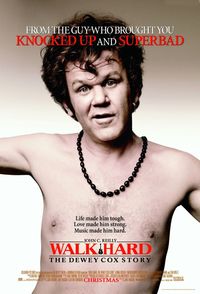 Walk Hard: The Dewey Cox Story
Released: December 21, 2007
Movie Purchasing Links
Review: Walk Hard: The Dewey Cox Story
by Dan Goldwasser
December 12, 2007
3.5 / 5 Stars
Lately, it seemed as though we would be subjected to a biographical film about some aging or dead rock star, to be told the story of his life, and his rise and fall, and then how he overcame obstacles such a drug abuse, failed marriages, family issues, etc., only to become reformed and have a rebirth in his career before the end. This year\'s favorite comedic superstar writer/producer/director Judd Apatow (Knocked Up), along with actor John C. Reilly and writer/director Jake Kasdan (Orange County) have decided to tackle the music biopic genre head on with Walk Hard: The Dewey Cox Story.

Structurally based on Walk the Line, we follow young Dewey Cox through his whole life, starting with the traumatic death of his brother in a horrible machete accident, the birth of his professional music career, his experiences with drug abuse and more, all leading up to the big finale performance. John C. Reilly plays the title role of Dewey Cox, and this former featured supporting actor finally gets his due with a leading role. Jenna Fischer (from \"The Office\") plays his singing partner Darlene, and the romance that blooms between them might just tear them apart.

It\'s a story of love - a love for his first wife, love for his second wife, love for music, and love for family, including the dozens of children he fathered over the years. Obviously this is a spoof - it\'s not even a satire. Some of the humor is so outrageous that you can\'t help but laugh. It\'s like Airplane! meets Spinal Tap meets A Mighty Wind meets Walk the Line. And it\'s perfectly delicious. Along his journey, Cox crosses paths with many of famous singers, including Elvis Presley, Buddy Holly, the Beatles and more. Of course, the filmmakers cast the most absurd actors to portray the roles, such as Jack Black as Paul McCartney, and Frankie Muniz as Buddy Holly. It\'s as hysterical as it is ludicrous, but it\'s not even the half of it.

The songs in Walk Hard are perfect satire: they not only make fun of the different styles of music, but they also succeed as valid songs within those styles. It\'s a fine line, and composer Michael Andrews, Apatow, Kasdan and Reilly do an excellent job of nailing each genre. The supporting cast is also very good, with many bit roles pulled from NBC\'s stable of comedic actors. You\'ll be sure to recognize many familiar faces from \"Saturday Night Live\", \"30 Rock\" and \"The Office\". It\'s by no means a great example of cinema, but it\'s one heck of a fun film.
Missing Information?
If any information appears to be missing from this page, contact us and let us know!