Movie Information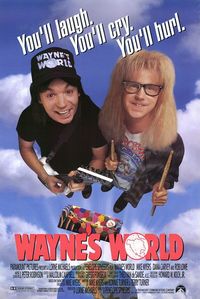 Wayne's World
Released: 1992
Credits
director

Penelope Spheeris
Movie Purchasing Links
Review: Wayne\'s World (Blu-ray)
by Dan Goldwasser
May 14, 2009
3 / 5 Stars
One of the few successful Saturday Night Live sketches to make the leap to the big screen, 1992\'s Wayne\'s World features Mike Myers and Dana Carvey as Wayne and Garth (respectively), two rock fans who host their own local cable-access show in Aurora, Illinois.  When television exec Benjamin Kane (Rob Lowe) offers the duo a lucrative contract, the two think they\'ve hit the big time. But Kane has other plans, and Wayne\'s girlfriend Cassandra (Tia Carrere) soon finds herself caught in the crossfire.  Directed by Penelope Spheeris, Wayne\'s World doesn\'t take itself too seriously, and has a nice tongue-in-cheek humor to it that works well for the short 94-minute running time.   Not all of the jokes are winners, though, and when they fall flat, they fall flat hard.  But still, there\'s a kind of charm about Wayne\'s World that makes it a fun and breezy comedy to watch.  It holds up even now, more than 17 years later, but it\'s not as fun as the sequel, Wayne\'s World 2.
Released on DVD back in 2001, Wayne\'s World makes the transition to high definition with a new Blu-ray that was just released by Paramount Home Video.  The transfer is decent at best, and the film source seems to be in pretty good shape, though there are a few dust and dirt specks here and there.  Similarly, the audio - presented in Dolby TrueHD 5.1 - sounds good, but won\'t blow you away. A few sequences (particularly those with loud music) sound good, like the classic "Bohemian Rhapsody" sequence, but the audio never truly immerses the viewer.
Supplements on the disc mirror that of the DVD release. Director Spheeris provides a pretty informative and enjoyable commentary track, and "Wayne\'s World Extreme Close-Up: Exclusive Cast & Crew Interviews" (SD, 23-minutes) is a pretty good, if not slightly fluffy, featurette that lets various cast and crew members talk about their experiences.  Various anecdotes include Tia Carrere\'s casting, Rob Lowe\'s Chinese lessons, the music, the idea\'s origins in Saturday Night Live, and more.  Finally, the "Theatrical Trailer" (HD, 2-min) is included.
It\'s hardly considered a seminal film, but Wayne\'s World helped launch Mike Myers\' big-screen career.  It still holds up after all this time, and while it would have been nice if they had done some new extras for the Blu-ray, it does offer an improved image and sound.  If you have the DVD, you might want to consider upgrading, but it\'s really not something to rush out and do if you have other titles you\'re craving.
Missing Information?
If any information appears to be missing from this page, contact us and let us know!