WaterTower Music Announces 'Wonder Woman' Soundtrack
MAY 26, 2017 | Submitted by WaterTower Music / Soundtrack.Net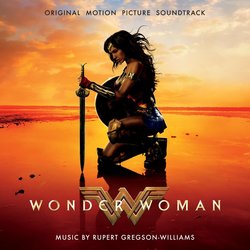 WaterTower Music today announced the release details of the Wonder Woman soundtrack, which features an original score by composer Rupert Gregson-Williams and the new end title track "To Be Human" by Sia Feat. Labrinth. The soundtrack to this epic action adventure film from director Patty Jenkins will be released both digitally and on CD on the same date that the film is in theatres, June 2.
"Patty and I worked together to find the themes for the movie," Gregson-Williams related. "She has a great ear, and guided me early on to colors she felt had an affinity with the characters."
"Engaging with the emotional language of music is a part of the filmmaking process that I deeply cherish, and its importance cannot be overstated," Jenkins explained. "With Wonder Woman, we had an exceptional undertaking at hand: bringing a legendary character to life with a score befitting one of the greatest Super Heroes of all time, while musically bridging three entirely different worlds. Not a small task for anyone, but not beyond the beauty and elegance of Rupert Gregson-Williams. He embraced the challenge and created an entire world of themes and textures that organically grew with Diana's storyline. He found her voice, her hope and all of her dreams, and brought them to life around her."
On his philosophy of the merging of the music with the storyline, Gregson-Williams expounded: "Wonder Woman is an origin story; we meet Diana before she understands her powers, so her theme needed to reflect her innocence and naiveté. She moves from young girl to a woman who knows her path through the journey of the film.
"I used a hybrid of orchestra and ethnic drums and vocals for the origin story, and as the character grew I introduced electric cello and more electronic colors," continued Gregson-Williams. "By the end of the movie I brought in orchestra, full choir, percussion, and a large palette of electronica."
"I am immensely proud of the score Rupert created and so grateful he was able to bring such integrity and beauty to the movie through his music," Jenkins elaborated. "He is a special and unique talent, whose art sings throughout our film."
Newsletter
Enter your e-mail address to receive weekly soundtrack and film score news: