Varese Sarabande Announces 'The House' Soundtrack
JUNE 7, 2017 | Submitted by The Krakower Group / Soundtrack.Net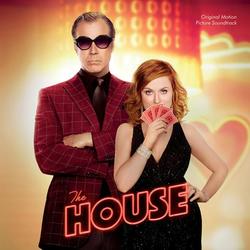 Varèse Sarabande will release The House - Original Motion Picture Soundtrack digitally and on CD June 30, 2017. The album features the original music composed by Andrew Feltenstein and John Nau, including four songs written by Feltenstein and Nau performed by Crown and the M.O.B., the previously unavailable Sam Wilkes Remix of LL Cool J's "Mama Said Knock You Out" and the original track "Kids In The Hood" performed by The M.O.B. featuring Chali 2NA (of Jurassic 5).
"Two of our favorite songs 'Love My People' and 'We Just Came To Party' sum up the spirit and the insanity of the film; people doing crazy things, throwing wild parties and having an amazing time!" said Feltenstein. Crown and the M.O.B., who will be the house artist for the 2017 ESPY Awards, perform these original tracks, which were penned by the composers.
After Scott and Kate Johansen (Will Ferrell and Amy Poehler) lose their daughter Alex's college fund, they become desperate to earn it back so she can pursue her dream of attending a university. With the help of their neighbor Frank (Jason Mantzoukas), they decide to start an illegal casino in his house.
"The score was a blast to make, a perfect combination of both measured and creative vibes," said Nau. "There were several controlled writing sessions, spent either sitting at a piano or a computer, mixed with live jam sessions spent with our musician friends. We took the most special moments and crafted them into what ultimately became the score."
Newsletter
Enter your e-mail address to receive weekly soundtrack and film score news: