Heitor Pereira Scores 'Despicable Me 3'
JUNE 26, 2017 | Submitted by Costa Communications / Soundtrack.Net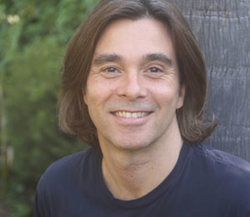 Grammy-winning musician and composer Heitor Pereira, who has scored all of the films in Illumination's Despicable Me franchise, returns to score Despicable Me 3, which arrives in theaters on Friday, June 30. Illumination, who brought moviegoers Despicable Me and the biggest animated hits of 2013 and 2015, Despicable Me 2 and Minions, continues the story of Gru, Lucy, their adorable daughters—Margo, Edith and Agnes—and the Minions in Despicable Me 3.
Directed by Pierre Coffin and Kyle Balda, co-directed by Eric Guillon and written by Cinco Paul & Ken Daurio, the animated film is produced by Illumination's Chris Meledandri and Janet Healy, and executive produced by Chris Renaud.
From Back Lot Music, the score album releases digitally day & date with the film.
Steve Carell not only reprises his role as Gru, but also takes on a second part—that of Dru, Gru's long-lost twin. Kristen Wiig returns as super-spy Lucy, while Emmy, Tony and Grammy Award winner Trey Parker voices new villain Balthazar Bratt, a former child star who has become obsessed with the evil TV character he played in the '80s. Gru's most formidable and comedic nemesis to date, Bratt is out to take down Hollywood...and anyone who stands in his way.
Dru hails from the country "Freedonia" and as such, has an affinity for the nation's infamous cheese. This note was not lost on Pereira, who utilized numerous unique instruments and objects to reflect this in the score, including cheese graters and a choir. In addition to incorporating a full orchestra and choir, Pereira performed with many instruments in the score.
Pereira played more than a dozen instruments for the score including: guitar, bass, piano, drum machines, ukulele, mandolin and a "bucket base" (one string on top of a bucket). Two days of the recording sessions were spent on percussion with drummers. Alex Acuņa, Bernie Dresel, and Mike Shapiro played simultaneously on complete drum kits.
Pereira then had them play orchestral percussion on ethnic instruments including taiko drums, African jun juns and Brazilian Surdos. The addition of 60 members of a choir—who sing through tin foil—created a distortion complementing Pereira's original '80s sounding synth score to match Balthazar Bratt's style. Bratt's persona is displayed through '80s pop hits along with the unique score. Pereira's score also represents the themes of family to highlight the brothers' relationship, as well as Lucy and the girls, and of course, the mischievous Minions.
Newsletter
Enter your e-mail address to receive weekly soundtrack and film score news: