Sony Music Announces 'War for the Planet of the Apes' Soundtrack
JULY 6, 2017 | Submitted by The Krakower Group / Soundtrack.Net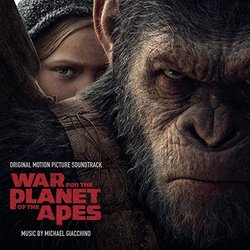 Sony Music proudly announces the release of War for the Planet of the Apes (Original Motion Picture Soundtrack) with music by Grammy and Academy Award-winning composer Michael Giacchino. The soundtrack will be released on July 7th.
Writer-Director Matt Reeves says about the music: "Michael's music for the Apes films is beautiful, inventive, epic, and above all, profoundly emotional. I know I am biased, but I think his score for War ranks among his absolute best. He is a simply master musical storyteller".
Composer Michael Giacchino says about the score: Planet of the Apes was one of my first childhood obsessions. As a kid, I used to draw the Apes from the film non-stop, including creating little flip-books about them. In fact, the MEGO Planet of the Apes toys that I played with as a child have a special place on the shelves in the office that I write in today. So if having the opportunity to write the score for the latest installment of one of my favorite film franchises from my childhood isn't enough, I have had the added pleasure of working on it with the equally Apes-obsessed director Matt Reeves. We both approach our work on these new films with the very same enthusiasm that we had as children, and that makes us one very happy team. Filmmaking is demanding and filled with days of intense work, but it is still FUN for us. I hope you can sense some of that joy and reverence for what came before in this new work for War for the Planet of the Apes."
Newsletter
Enter your e-mail address to receive weekly soundtrack and film score news: