WaterTower Music Announces 'Annabelle: Creation' Soundtrack
AUGUST 4, 2017 | Submitted by WaterTower Music / Soundtrack.Net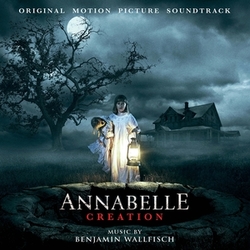 WaterTower Music today announced the August 4 release date of the soundtrack to New Line Cinema's Annabelle: Creation - the follow up to 2014's hugely successful film Annabelle —which will arrive in theatres on August 11, 2017.
Golden Globe and Emmy nominee Benjamin Wallfisch is recognized as one of the leading film composers of his generation. His masterfully unnerving 24-track Annabelle: Creation film score offers a potent dimension of eeriness that magnifies the suspenseful discomfort when set against picture.
"It's always a joy to collaborate with David F. Sandberg; not only is he of course a master filmmaker, but he's also a great musician," says Wallfisch about the Annabelle: Creation director. "His deep understanding of what a score can bring to the table in such a finely nuanced, beautifully crafted piece of cinema as Annabelle: Creation, gave me a lot of freedom to think outside the box.
"Our only rule was everything in the score had to be acoustic; as the drama is set in the 1950s, everything needed to feel authentic to the time," Wallfisch further explained. "As a supplement to the large orchestra we used on the score, we utilized a whole bunch of dusty toy instruments from the 1950s, with one in particular appearing more than any other - a seemingly innocent sounding Jaymar toy piano. Just the kind of instrument you might catch Annabelle herself playing…"
Newsletter
Enter your e-mail address to receive weekly soundtrack and film score news: