Tadlow Music to Release Complete Score to 'Ben-Hur'
SEPTEMBER 12, 2017 | Submitted by The Krakower Group / Soundtrack.Net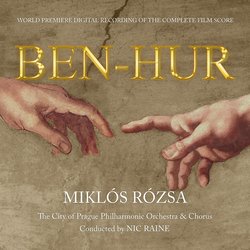 Tadlow Music is proud to announce the release of the classic film music event of the decade – a special collector's edition 2-CD set of one of the greatest film scores of all time – Ben-Hur composed by Miklós Rózsa. The complete 157-minute score, including previously unreleased music, has been re-recorded in stunning and dynamic 24-Bit 96kHz digital sound, performed by the award-winning City of Prague Philharmonic, conducted by Nic Raine and produced by label founder James Fitzpatrick.
"Hearing many full versions of the film cues and some that were never recorded before, generations new and old will be exposed to my father's epic masterpiece in its entirety for the first time," said Miklós' daughter Juliet Rózsa. "Ben-Hur was one of my father's favourite scores; he worked on it for over a year – mostly in his beloved Italy. He won the richly deserved Academy Award (his third) for Best Music score. He would have been ever so pleased with this new CD – as am I – and I thank Tadlow Music and James Fitzpatrick for producing my father's magnum opus, recorded in rich digital 21st-century sound, in all its majestic glory. Bravo!!"
"I consider it a magnificent privilege to be able to contribute both this audio recording and the new computer-printed scores and parts to posterity," said Fitzpatrick. "It is what myself and Tadlow Music are all about: the preservation of outstanding music for future generations to enjoy and study."
This premiere recording features Rózsa's score in the most complete form to-date. The music is presented as heard in the film, but without the edits to the music, which were required for the picture. Tadlow Music has become one of the preeminent record labels producing and releasing newly reconstructed versions of classic film music, including Rózsa's El Cid, Sodom and Gomorrah, Quo Vadis and The Thief of Bagdad.
The reconstruction of the music started with the original version of the sheet music registered by MGM with the Library of Congress. Reconstructionist and Rózsa expert Leigh Phillips combed through these 'sketch scores' – the hand-written music Rózsa would have provided to his orchestrator. He looked at the copious notes written on its pages, and began to both interpret the notes and condense them into new, computer-generated sheet music for the musicians to play. In addition to the cues recorded for the film, Phillips included music which was written for deleted scenes as well as pieces composed, but ultimately not used in the final version of the film. Guided by Rózsa's sketches, he orchestrated the music for what would ultimately be 96-piece orchestra and an 80-voice choir, with additional ethnic instruments.
The recording dates were divided into two periods, four days in January and four in April of 2017. Well-versed in recording Rózsa's music through the years, Tadlow Music founder and this albums producer James Fitzpatrick turned to one of Europe's most outstanding and virtuoso orchestras, the City of Prague Philharmonic and Choir, under the direction of Nic Raine (who actually orchestrated for Miklos Rozsa on some of his later film scores) for this very special recording.
Perhaps Fitzpatrick summed it up best "I want to present the score as Rózsa wanted it … in all its majestic glory."
Newsletter
Enter your e-mail address to receive weekly soundtrack and film score news: