Sony Classical Announces 'Professor Marston and the Wonder Women' Soundtrack
SEPTEMBER 30, 2017 | Submitted by White Bear PR / Soundtrack.Net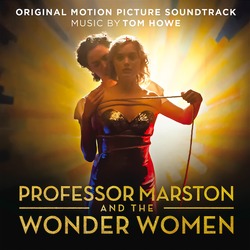 Sony Classical proudly announces the release of Professor Marston and the Wonder Women (Original Motion Picture Soundtrack). Featuring composer Tom Howe's original score, the soundtrack will be available digitally and on CD October 13.
Stage 6 Films' Professor Marston and the Wonder Women premiered to rave reviews at the Toronto International Film Festival. On October 13, the film will be released in U.S. theaters in association with Annapurna Pictures.
"Working with Angela was fantastic," exclaims Howe. "I was lucky enough to join the project before Angela filmed anything. Early conversations with her about the characters and story arc meant I was able to write a suite which she listened to on set and this formed the main theme and palette for the Marstons. The music takes us on an emotional journey tracking the ups and downs of the Marstons story infusing a subtle twist by using unusual percussion and bondage sounds."
Director Angela Robinson had this to say about the score, "I was lucky enough to start working with Tom Howe in pre-production of Professor Marston and the Wonder Women. Often the composer does not get involved with the film until after you've completed the final cut, but Tom was integral from the beginning. He wrote several Marston themes that I listened to while I was shooting so that his score became part of the actual filming of principal photography. I told Tom that I wanted the score to accomplish the same task the filmmaking was doing—I wanted to tell a lush, romantic, beautiful story but with this unconventional subject matter and I wanted the score to do the same—to be beautiful and emotional and elegant but also to simultaneously subvert itself. We settled on using a variety of percussive elements in the score which culminated in Tom integrating clapping and the sounds of actual spanking in the score to infuse the lyricism with a daring, subversive twist—like the Marstons!"
Newsletter
Enter your e-mail address to receive weekly soundtrack and film score news: