Varese Sarabande Announces 'Breathe' Soundtrack
OCTOBER 3, 2017 | Submitted by The Krakower Group / Soundtrack.Net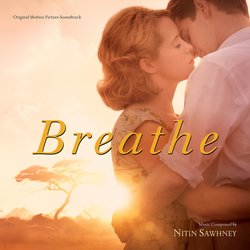 Varèse Sarabande will release the Breathe – Original Motion Picture Soundtrack digitally and CD on October 13, 2017. The album features original music composed by Nitin Sawhney (The Namesake).
For his directorial debut, Andy Serkis brings to life the inspiring true love story between Robin and Diana Cavendish (Academy Award nominee Andrew Garfield, Golden Globe winner Claire Foy), an adventurous couple who refuse to give up in the face of a devastating disease. After a fairytale-like courtship, Robin is struck down by polio at the age of 28, confined to a hospital bed and given only a few months to live. With the help of Diana's twin brothers (Tom Hollander) and the groundbreaking ideas of inventor Teddy Hall (Hugh Bonneville), Robin and Diana dare to escape the hospital ward to seek out a full and passionate life together—raising their young son, traveling and devoting their lives to helping other polio patients. Written by two-time Academy Award nominated writer William Nicholson, and shot by three-time Academy Award winner Robert Richardson, Breathe is a heartwarming celebration of love and human possibility.
The filmmakers chose composer, songwriter, and multi-instrumentalist Nitin Sawhney to create a musical background that reflects the Cavendishes' spirit of adventure and resilience against the odds. Celebratory, upbeat, poignant and romantic, the score uses primarily orchestral instruments with some added soundscapes and elements of jazz improvisation.
"The music is very sparing in the most powerful and emotional scenes," says Sawhney. "I preferred to let the acting lead the emotion of the film. The instrumentation needed to reflect the time and period of Robin's life, his personal tastes in music, his personality, and the narrative journey, without falling into the pitfall of creating an anachronistic soundtrack."
Sawhney succeeded in creating a score that navigates the movie's dramatic story arc and shifting emotional tones without resorting to sentimentality, according to Serkis. "The characters certainly don't. They are always embarking on expeditions, forays into the unknown, and having fun on the way, without thinking about what might go wrong."
Newsletter
Enter your e-mail address to receive weekly soundtrack and film score news: