Water Tower Music Announces 'Batman and Harley Quinn' & 'Batman Vs. Two-Face' Soundtracks
OCTOBER 3, 2017 | Submitted by White Bear PR / Soundtrack.Net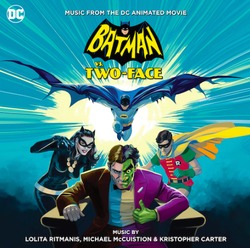 Water Tower Music announced today the October 6 release of two titles: Batman and Harley Quinn: Music From The DC Universe Original Movie and Batman Vs. Two-Face: Music From The DC Animated Movie. The albums feature the movie's original score by Dynamic Music Partners (DMP), a team of 3 composers who previously scored Batman Beyond. The soundtracks will be available at all digital music providers and on CD exclusively at FYE stores.
"We're thrilled that WaterTower Music is releasing soundtracks for two of our current projects: Batman & Harley Quinn and Batman vs. Two-Face!" explained the three Emmy Award-winning composers Michael McCuistion, Lolita Ritmanis and Kristopher Carter, collectively known as Dynamic Music Partners. "The Batman vs. Two-Face score gave us one final opportunity to honor the late Adam West as Batman, with all the Bams! Zings! and Pows! made famous by the original television series music written by musical icons Neal Hefti and Nelson Riddle. Collaboration with producer James Tucker always brings us great creative freedom!
"With "Harley Quinn," we returned to the musical world of Batman: The Animated Series. which was our first collaboration with Bruce Timm as part of Shirley Walker's team," they continued. "Along with recreating that Dark Deco mood, we also paid homage to some of the greatest jazz scores of the 70's and 80's. Our long creative history with Bruce usually allows for a musical and dramatic shorthand while discussing the score; this particular project, with its comedic twists and turns, really kept us on our toes!
"We worked with our key music team on the scores (engineers Mark Mattson and Mako Sujishi, woodwind player John Yoakum, Greg Herzenach on guitars, Andris Mattson playing trumpet on "Two-Face," and trumpet legend Wayne Bergeron on "Harley") to take the listener on journeys that are simultaneously familiar and fresh for fans who will undoubtedly appreciate these distinct takes on the Batman universe.
Newsletter
Enter your e-mail address to receive weekly soundtrack and film score news: