Back Lot Music to Release 'Happy Death Day' Soundtrack
OCTOBER 10, 2017 | Submitted by The Krakower Group / Soundtrack.Net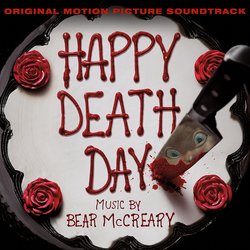 Back Lot Music announces the release of the Happy Death Day soundtrack, featuring music by Bear McCreary (Rebel in the Rye, 10 Cloverfield Lane) digitally on October 13 and on CD on October 20, 2017.
"When I first saw Happy Death Day, I was immediately struck by the film's perfect balance of horror and dark comedy," said McCreary. "The main character, Tree, hilariously captures a millennial spirit the horror is genuinely terrifying, and the comedy pitch perfect. The film is a goldmine for musical inspiration!"
In the thriller, the killer's identity is hidden behind a baby-face mask. McCreary had to look no further than to his three-year old daughter for inspiration in creating the score. "Christopher Landon and I decided to give this voiceless character a voice in the score," McCreary explained.
Bear collected recordings of his daughter that he used throughout. "These sounds of her giggling and whispers were digitally mangled and distorted, until they became terrifying vocal textures, with menacing bass, crackling breathy overtones. One baby whimper in particular became the theme for the killer, wailing like a banshee over the score. I combined the baby voice with a full orchestra, and the end result truly terrified me. I am hopeful it will have the same effect on the audience."
Newsletter
Enter your e-mail address to receive weekly soundtrack and film score news: