'The Meyerowitz Stories (New and Selected)' Soundtrack Released
OCTOBER 14, 2017 | Submitted by The Krakower Group / Soundtrack.Net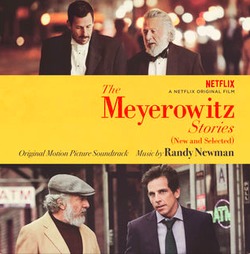 Lakeshore Records has released The Meyerowitz Stories (New and Selected) - Original Motion Picture Soundtrack digitally on October 13, 2017. The album features original music by multiple Grammy, Emmy, and Academy Award winner Randy Newman (The Natural, Toy Story). The all-piano score is also performed by Newman.
The veteran film composer did something completely different for The Meyerowitz Stories (New and Selected) - Newman crafted a score utilizing only the piano. "After I saw the movie I wrote and recorded a little piece so that Noah [Baumbach, writer/director] could hear something that I thought might work for the picture," Newman described. "He liked it and he decided that solo piano would be an effective way to score his picture."
"I enjoyed working with Noah. In many ways it was the closest to collaboration I've ever had with a director and I liked it," said Newman.
Newsletter
Enter your e-mail address to receive weekly soundtrack and film score news: