'Thor: Ragnarok' Score Album Released
OCTOBER 20, 2017 | Submitted by Marvel Music/Hollywood Records / Soundtrack.Net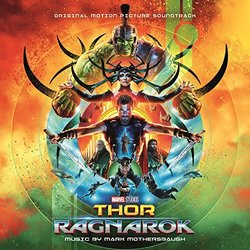 Marvel Music/Hollywood Records are releasing the digital version of the Thor: Ragnarok score album by composer Mark Mothersbaugh today, October 20, 2017. The physical CD soundtrack will be available on November 10.Thor: Ragnarokt is directed by Taika Waititi and returns Chris Hemsworth starring as Thor and Tom Hiddleston reprising his role as Loki. Marvel Studios' Thor: Ragnarok opens in U.S. theaters on November 3, 2017.
Mark Mothersbaugh recorded the score at London's Abbey Road Studios and also serves as Soundtrack Producer with Alan Meyerson.
Mothersbaugh said, "I was aware of Taika's work before I got the call from Marvel, and was excited about the chance to collaborate. He's a true artist, and I think he brings a lot to the Marvel franchise. We both share an interest in retro synths and I was delighted to dust off a few vintage keyboards from the DEVO days to mix in with the Abbey Road 100-piece orchestra to create our own take on the sound of Marvel. I hope we get to do it again."
Newsletter
Enter your e-mail address to receive weekly soundtrack and film score news: