Kraft-Engel Reps Music Producer & Composer Harvey Mason Jr.
NOVEMBER 9, 2017 | Submitted by Kraft-Engel Management / Soundtrack.Net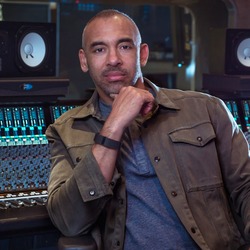 Kraft-Engel Management announced representation of executive music producer, music arranger, music producer and composer Harvey Mason Jr. today. In addition to writing and producing songs for Aretha Franklin, Michael Jackson, Elton John, Justin Bieber, Britney Spears, Justin Timberlake and Chris Brown, he produced the soundtrack for the movie musical Dreamgirls, which received three Academy Award nominations in the Best Original song category.
In 2008, Mason Jr. composed the score to the documentary More Than a Game and served as executive producer on the soundtrack album. In 2012, he was nominated for a Golden Globe Award for the song "The Living Proof" from The Help performed by Mary J. Blige.The same year, he also produced the songs "His Eye Is on the Sparrow" and "Celebrate" for the Whitney Houston-starring movie Sparkle, as well as the a cappella vocal performances for the hit film Pitch Perfect. In 2014, he produced the music for Get On Up, the film about the life and music of the legendary James Brown. The following year, Mason Jr. produced new a cappella hits for Pitch Perfect 2 and also arranged and produced all the N.W.A. music for F. Gary Gray's Straight Outta Compton.
Most recently, Mason Jr. wrote and produced music for NBC musical special The Wiz Live! and produced over 50 songs for the animated musical Sing from Universal/Illumination Entertainment. His upcoming projects include Pitch Perfect 3 and the musical reworking of the 80's classic, Valley Girl for MGM.
Newsletter
Enter your e-mail address to receive weekly soundtrack and film score news: