Lakeshore Records Announces 'Lady Bird' Soundtrack
NOVEMBER 14, 2017 | Submitted by Silverlake Media / Soundtrack.Net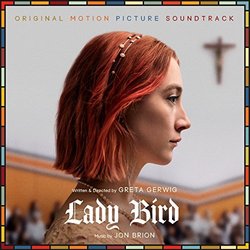 Lakeshore Records will release Lady Bird - Original Motion Picture Soundtrack digitally November 17th. CD and vinyl versions forthcoming. The soundtrack features an original score by Grammy-nominated singer-songwriter/composer Jon Brion (Magnolia, Eternal Sunshine of the Spotless Mind). The film was written and directed by Greta Gerwig and stars Saoirse Ronan, Laurie Metcalf, Tracy Letts, Lucas Hedges, Timothée Chalamet, Beanie Feldstein, Lois Smith, Stephen McKinley Henderson, Odeya Rush, Jordan Rodrigues and Marielle Scott. The film was released theatrically by A24 on November 3rd, amassing the highest per screen average of any film this year for its opening weekend.
Says Gerwig about working with Brion: "Jon Brion is my all-time favorite musician/composer/producer, and working with him was a dream come true. It is an old-fashioned movie score with melody, which is exactly what I had hoped for. I didn't want the score to feel like background or ambience, I wanted it to be very present and structured, in the foreground of the storytelling."
Says Brion: "Greta has an observation: 'Why do people who want to control everything go into directing?' Citing that it is one of the most collaborative mediums, an insight I hadn't heard before let alone so well (and knowingly) articulated, I can confirm for you that in a business of supposed collaborators, she is a real one."
Newsletter
Enter your e-mail address to receive weekly soundtrack and film score news: