Discovery Channel to Release 'Manhunt: Unabomber' Soundtrack
NOVEMBER 30, 2017 | Submitted by The Krakower Group / Soundtrack.Net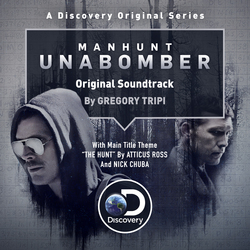 Discovery Channel will release the Manhunt: UNABOMBER – Original Series Soundtrack on December 15th. The soundtrack features original music by composer Gregory Tripi (Rememory, The Knick additional music).
"When [director] Greg Yaitanes and I began discussing the music for Manhunt, there wasn't any temp track or decisions made other than going in an electronic direction," explained Tripi. "Greg had been a big fan of the music that Cliff Martinez and I did for The Knick, so he and the music supervisor, PJ Bloom, approached me about doing the show."
"The face-to-face meetings between Sam Worthington and Paul Bettany (FBI agent Fitz and The Unabomber) had an interesting dynamic—something that almost felt like a call and response. It leant itself to a music gesture, which came out very naturally," said Tripi. "That thematic element made it's way in and out of several cues through the season."
In addition to the Fitz/Unabomber theme, Tripi wrote a theme for an unusual character. "I had an idea about making The Unabomber's Manifesto into a character by giving it a theme," he explained. One of Tripi's pieces became the recurring 'end-title' track for the series. "Greg Yaitanes came up with the idea of re-using this particular piece of music as the ending of each episode. It's a disturbing swell of sound and pulses, and really ends each show with a rush of tension. It got better with each episode, really becoming part of the personality of the show."
Newsletter
Enter your e-mail address to receive weekly soundtrack and film score news: