Philip Glass to Receive The Society of Composers & Lyricists' highest honor
DECEMBER 7, 2017 | Submitted by Costa Communications / Soundtrack.Net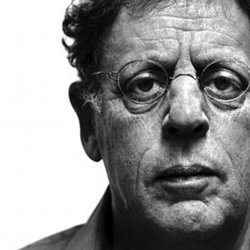 Iconic film composer Philip Glass will receive The Society of Composers & Lyricists (SCL) highest honor, The SCL Lifetime Achievement Award, Tuesday, December 12th, 2017 at the SCL NY Chapter Holiday Dinner and concerto at the MIST HARLEM - 46 W 116TH St. Harlem, NY. Dinner at 7pm; Concerto at 8:30pm. The celebrated composer has received three Academy Award nominations for his scores for The Hours, Notes on a Scandal, and Martin Scorsese's Kundun. A prolific composer for film, television, operas and theater, Glass has created music for over 200 projects including more than 100 films. Philip Glass is currently receiving critical-acclaim and accolades for his original score to Brett Morgen's documentary Jane including winning the Hollywood Music in Media Award for "Outstanding Score." The special event will include of concerto of Glass' work and feature performances from Jane and The Hours.
Philip Glass has had an extraordinary and unprecedented impact upon the musical and intellectual life of his times through his operas, his symphonies, his compositions for his own ensemble, and collaborations with well-known artists ranging from Twyla Tharp to Allen Ginsberg, Woody Allen to David Bowie, Paul Simon, Linda Rondstadt, Yo Yo Ma, and Doris Lessing. Glass is the first composer to win a wide, multi-generational audiences in the opera house, the concert hall, the dance world, in film & popular music. Philip Glass has written music for experimental theater, has composed more than twenty operas, ten symphonies; two piano concertos and concertos for violin, piano, timpani and saxophone quarter and orchestra; and his soundtracks to films. At 80 years old, he continues to present lectures, workshops and solo keyboard performances around the world, and continues to appear regularly with the Philip Glass Ensemble. Glass remains one of the most important American composers. His music is distinctive, haunting, and evocative.
Past honorees of the Society of Composers & Lyricists' Lifetime Achievement award include Quincy Jones and Bill Conti. Other notables include Lalo Schifrin, Hal David, Burt Bacharach, Leiber and Stoller, Diane Warren, Thomas Newman, James Newton Howard, Dave Grusin, The Sherman Brothers, Elliot Goldenthal, Mark Isham and Randy Newman.
Newsletter
Enter your e-mail address to receive weekly soundtrack and film score news: