Lakeshore Records Announces 'The Polka King' Soundtrack
JANUARY 2, 2018 | Submitted by Silverlake Media / Soundtrack.Net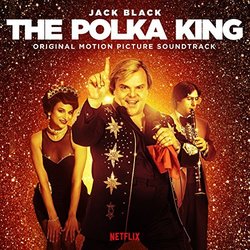 Lakeshore Records in conjunction with ShivHans Pictures are gearing up for the release of The Polka King—Original Motion Picture Soundtrack—a collection of classic polka songs re-imagined by The Jack Black Polka Band featuring members of the iconic Jan Lewan Orchestra as well as other prominent players in the scene. Music supervisors Randall Poster and Meghan Currier brought the original players, Lewan's original arranger Stephen Kaminsky and Grammy-winning producer Stewart Lerman together to re-record their songs with Black. The Polka King was written and directed by Maya Forbes and Wallace Wolodarsky. The album was produced by Stewart Lerman and Randall Poster, and executive produced by Wally Wolodarsky, Maya Forbes, Jack Black, Shivani Rawat, Monica Levinson and Meghan Currier.
The Polka King—Original Motion Picture Soundtrack will be released digitally on January 5 & CD January 12, 2018 with a vinyl release forthcoming. Netflix will debut The Polka King January 12.
The Polka King is the remarkable true story of Lewan, a Polish immigrant who became the "King of Pennsylvania Polka." A believer in the American Dream, Lewan worked hard and dreamed bigger. But with big dreams came big mistakes. Comedy and tragedy mix in the world's only known Polka Ponzi scheme.
Says Black: "From the moment I first saw the documentary (The Man Who Would Be Polka King), I knew I had to play Jan Lewandowski. The music…the costumes….the accent! Working with Wally and Maya was a dream. Incredible screenplay and tremendous directing….truly one of my all-time favorite experiences in the biz. So proud of our little masterpiece. We are bringing polka back!!"
Say Forbes & Wolodarsky: "We've been polka fans from way back. We've been known to put on a Frankie Yankovic record. Jimmy Sturr is there for us when we want to tap our toes. We love Brave Combo and their fresh approach to the genre. So when we heard that Jack Black wanted to play polka musician Jan Lewan we jumped at the chance to get involved. We hoped to capture the sound of Jan Lewan's stage shows which were all about getting people up and dancing. Randy and Meghan had a brilliant idea: let's get the guys who played with Jan to play for us. What resulted was a magical two days of recording in New York City (in the same studio David Bowie and Queen recorded "Under Pressure"!!!). The musicians were starstruck by Jack and his ability to sing these songs—especially the songs that were in Polish. Jack was delighted by the musicians and their ability to turn the session into an instant polka party. Was there some beer drinking after the sessions? Probably."
Says Poster: "Reuniting members of Jan Lewan's Orchestra, joining them with a handful of East Coast polka singers, and topping them off with the cool and courageous Jack Black, we think we made some of the best polka music of the century!"
Newsletter
Enter your e-mail address to receive weekly soundtrack and film score news: