Lakeshore Records to Release 'The Ritual' Soundtrack
FEBRUARY 6, 2018 | Submitted by The Krakower Group / Soundtrack.Net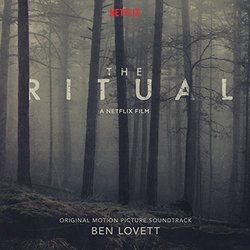 Lakeshore Records will release The Ritual – Original Motion Picture Soundtrack digitally on February 9, 2018. The album features original music by composer Ben Lovett (Synchronicity, American Folk).
"It's really a story about a guy losing friends, and how our relationship dynamics with them change as we get older and become different people," said Lovett. "We open with a character suffering a moment of weakness that has disastrous consequences, and explore his struggle to reconcile the level of responsibility he may have had in the outcome. That's what I was drawn to initially, the film within the movie."
Reuniting after the tragic death of their friend, four college pals set out to hike through the Scandinavian wilderness. A wrong turn leads them into the mysterious forests of Norse legend, where an ancient evil exists and stalks them at every turn.
"I knew the score needed to help establish the presence of 'something else' out there in the woods, long before you see anything menacing onscreen we wanted to create an impression of that inevitable obstacle, a kind of malevolent awareness out there lurking around," Lovett described.
The Ritual reunites Lovett with director David Bruckner, whom he last collaborated with on The Signal. "It was interesting going into a story about old friends with an old friend," said Lovett. The two have a 20 year history doing experimental indie films together.
"Ben likes to say 'I speak Bruckner.' Which I think is one of the reasons he got the job – when he said that it really put the producers at ease. They thought maybe this guy can actually decode what Dave's talking about," Bruckner joked. "One of the reasons I really love working with Ben is I trust his aesthetic. I trust him as a storyteller. He brings a comprehensive perspective to the table on what it is we're trying to create."
Lovett calls The Ritual his most challenging film project to date, as the composer was required to relocate to London and create the score from beginning to end with no familiar collaborators at hand. A serendipitous turn of events brought Ben together with the esteemed London Contemporary Orchestra. "Working with the LCO was like being given the power to invent new colors, they really push the boundaries of their instruments and expanded the scope of what I could accomplish on this score," Lovett explained.
"I wanted the tragedy that sets the film in motion to follow our characters into the forest," Lovett continued. "The motif related to that initial incident is the only area of the score where I used synths instead of the orchestra—it was simply an effective way to separate the emotional story going on within the characters from everything happening around them in the physical environment of the woods."
Newsletter
Enter your e-mail address to receive weekly soundtrack and film score news: