Lakeshore Records & Invada Records Announce 'You Were Never Really Here' Soundtrack
MARCH 6, 2018 | Submitted by The Krakower Group / Soundtrack.Net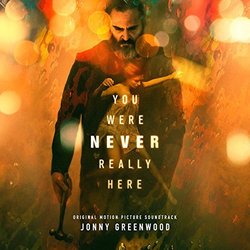 Lakeshore Records and Invada Records will co-release You Were Never Really Here—Original Motion Picture Soundtrack, featuring a score by Academy Award-nominated composer Jonny Greenwood (Phantom Thread, There Will Be Blood). The Amazon Studios film was written and directed by Lynne Ramsay, and won awards at the Cannes Film Festival for Best Screenplay and Best Actor (Joaquin Phoenix). It's the second time the Radiohead guitarist/keyboardist has collaborated with Ramsay having composed the score for We Need To Talk About Kevin. Greenwood weaves his talents on synthesizers, drum machines, recorders and guitars alongside the London Contemporary Orchestra and experimental string player Ollie Coates (Under the Skin) to create a compelling backdrop to the intense and harrowing thriller. The soundtrack will be released digitally in North America by Lakeshore Records and in the UK/Europe by Invada Records March 9th. CD and vinyl versions forthcoming. Amazon Studios will release the film in select theaters April 6th.
Based on a book by Jonathan Ames, Ramsay's fourth film stars Phoenix as Joe—a traumatized veteran, unafraid of violence, who tracks down missing girls for a living. When a job spins out of control, Joe's nightmares overtake him as a conspiracy is uncovered leading to what may be his death trip or his awakening.
Says Greenwood in NME on approaching Ramsay to collaborate: "I wrote to Lynne before finding out about the film and basically hustled her for a job. Asked her if she was working on anything, and if so, whether she needed music. She said she was working on a 'noir story in NYC.' I'm a huge fan of her films, and was just keen to be involved with her again. We worked together on her last one, We need to talk about Kevin, so I had a good 'in'."
Newsletter
Enter your e-mail address to receive weekly soundtrack and film score news: