National Geographic and Lakeshore Records Announce 'One Strange Rock' Soundtrack
MARCH 20, 2018 | Submitted by The Krakower Group / Soundtrack.Net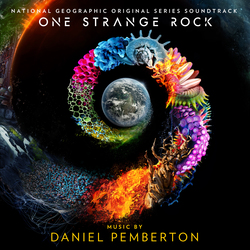 National Geographic and Lakeshore Records partner with Golden Globe-nominated composer Daniel Pemberton (All the Money in the World, Molly's Game, Gold, Steve Jobs) to unveil the richly compelling score for One Strange Rock, a 10-part global event series premiering on National Geographic on Monday, March 26, at 10/9c. Lakeshore Records will release the original soundtrack digitally on Friday, March 30.
Academy Award-nominated filmmaker Darren Aronofsky and award-winning producer Jane Root collaborate with host Will Smith and eight legendary astronauts to tell the extraordinary story of our curiously calibrated, interconnected planet.
Pemberton's intense score complements the visual brilliance of One Strange Rock, exposing the hauntingly ethereal beauty of Earth, the only place we call home. His dynamic sound coupled with the cinematic storytelling takes audiences on an electrifying trip across 45 countries, six continents and outer space.
"Much like how Darren Aronofsky and the rest of the team wanted One Strange Rock to feel radically different to anything like it before, I wanted continue that ethos with the soundtrack album," says Daniel Pemberton. "I wanted to make it much more of an immersive listening experience than just a standard collection of cues from across the series—something that reconnects you with the stories, the visuals and the world when you hear it."
Pemberton created a special listening experience for the soundtrack recording. "I've tried to make music that could only exist right now," he explains. "But I wanted the listening experience to harken back to classic albums from the 70s by artists like Pink Floyd or Vangelis—albums you'd play all the way through. The soundtrack is broken down into four parts—one for each side of a double LP. It's a continuous musical trip made for listening and not shuffling."
"We are thrilled to partner with visionary composer Daniel Pemberton on our series One Strange Rock," says Ashley Winton, Vice President, Music, National Geographic Partners. "The score he created provides the perfect sonic landscape for Darren Aronofsky's stunning visuals."
Newsletter
Enter your e-mail address to receive weekly soundtrack and film score news: