Lakeshore Records Announces 'Paterno' Soundtrack
APRIL 12, 2018 | Submitted by The Krakower Group / Soundtrack.Net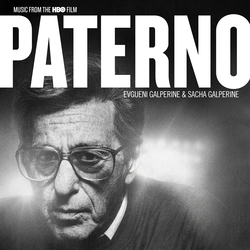 Lakeshore Records will release Paterno - Original HBO Films Soundtrack digitally on April 27, 2018. The album features original music by composers Evgueni Galperine and Sacha Galperine (Loveless, The Wizard of Lies).
Paterno centers on Penn State's Joe Paterno in the aftermath of the Jerry Sandusky sexual abuse scandal. After becoming the winningest coach in college football history, Paterno's legacy is challenged and he is forced to face questions of institutional failure in regard to the victims. Academy Award and Emmy Award winner Al Pacino stars in the film's title role.
Evgueni and Sacha Galperine, who also composed the music for The Wizard of Lies, were very aware of complex undertaking of this story. "Barry [Levinson] told us that he would like to have an emotional score to reveal Joe Paterno's complex feelings but at same time he wanted to avoid playing to compassion or pity," said composer Evgueni Galperine. "His idea was to make people understand Joe, try to imagine what they would do in his place, but in no way did Barry want the score to entice the audience to pardon Paterno."
Sacha Galperine continued, "Our mission was to use the score to reveal Paterno's emotional and psychological journey starting with denial and fear and finishing with the understanding, guilt and profound remorse."
The composers achieved this using organic instruments manipulated in unorthodox ways. "Unlike some other of our work, we concentrated on classical, orchestral instruments but used in an unusual way, impossible to play in real life musicians but made possible by samples programming," Evgueni described. This can be heard in the tracks 'A Quiet Storm' or 'The Riot.' "When complex articulation techniques are played very fast. It creates an interesting effect, like if we were listening to a superhuman orchestra," Sacha explained.
Newsletter
Enter your e-mail address to receive weekly soundtrack and film score news: