'Rampage' Soundtrack Released
APRIL 13, 2018 | Submitted by WaterTower Music / Soundtrack.Net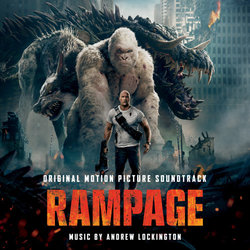 WaterTower Music announced today the release of the soundtrack to the action adventure film Rampage, which features an original score by Canadian composer Andrew Lockington (San Andreas, Journey to the Center of The Earth, City of Ember), as well as Grammy Award winning multi-platinum trailblazer Kid Cudi's end title song "The Rage," which includes a sample of the Smashing Pumpkins classic "Bullet With Butterfly Wings." Rampage will be released digitally and on CD on April 13 - the same date Rampage is in theaters.
Lockington's wide-ranging approach to scoring the film included spending time in Gorilla enclosures to study their vocalizations and rhythmic patterns, recording a children's choir from Uganda, and manipulating music with electronics and analog synths.
"Before Rampage was even green-lit, Brad Peyton and I began discussing and exploring music ideas that might work for the score," the composer explained. "This included recording wild Howler Monkeys in Costa Rica, researching tribal music in the South Pacific, tracking down vintage modular computer chips used in 80's video games, and tasking sound programmers with designing custom analog synth rigs and processors."
Rampage is the 4th film Lockington has worked on with the film's director/producer Brad Peyton. "It blends elements of horror, comedy, action, and adventure while not losing the heart and intimacy that fuels the entire enterprise," says Peyton of the score. "Andrew has done a beautiful job of not just blending these elements, but also evolving the ideas, and elevating the music to something that I could never have initially imagined when we started this process."
Newsletter
Enter your e-mail address to receive weekly soundtrack and film score news: