Soundtrack to 'Riverdale' Special Episode 'Carrie The Musical' Released
APRIL 19, 2018 | Submitted by WaterTower Music / Soundtrack.Net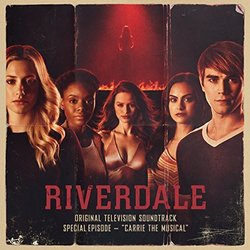 WaterTower Music has announced today's release of the unique full soundtrack to "Carrie The Musical," a Riverdale episode featuring all new cast performances, which aired on April 18 (8:00–9:00 p.m. ET/PT) on The CW.
Fans who have fallen in love with songs from previous episodes of the show, such as "Mad World," "Milkshake," "Candy Girl," "Kids in America," and "Bittersweet Symphony" will delight in having a full album of new Riverdale recordings to add to their playlists and music collections.
In addition to today's digital release of the album, a special, limited edition "blood red" vinyl version of the album will be available exclusively at Urban Outfitters on July 13.
Based on Lawrence D. Cohen's on-screen adaptation of Stephen King's novel, Carrie The Musical features lyrics by Dean Pitchford and music by Michael Gore. Carrie The Musical was first produced in 1988 by the Royal Shakespeare Company before ultimately making its way to Broadway. It was then revived in 2012 by New York's MCC Theater. Major productions have recently been seen at the Southwark Playhouse in London and the Los Angeles Theatre in Los Angeles, California. In addition to Cheryl Blossom's role as Carrie, the Riverdale High production includes Archie Andrews as Tommy Ross, Betty Cooper as Sue Snell, Veronica Lodge as Chris Hargensen, Chuck Clayton as Billy Nolan, Alice Cooper as Margaret White, Josie McCoy as Miss Gardner, Toni Topaz as Norma and Ethel Muggs as Helen. The show is directed by Kevin Keller.
Newsletter
Enter your e-mail address to receive weekly soundtrack and film score news: