Varese Sarabande to Release 'Lean on Pete' Soundtrack
APRIL 25, 2018 | Submitted by White Bear PR / Soundtrack.Net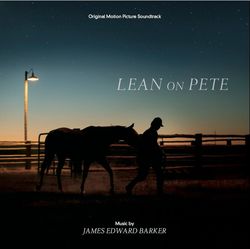 Varèse Sarabande Records will digitally release Lean On Pete – Original Motion Picture Soundtrack on April 27th. The soundtrack will feature the film's original score by award-winning composer James Edward Barker. Lean On Pete received critical praise when it premiered at the Venice Film Festival last year, receiving a Golden Lion award nomination for 'Best Film' and where Charlie Plummer received the Marcello Mastroianni Award for Best Young Actor. The film (starring Plummer, Chloe Sevigny, Travis Fimmel and Steve Buscemi), was released theatrically in the U.S. by A24 on April 6th.
"Much of what audiences will hear in the music is an isolated and exposed rawness, because what I felt they should be hearing was that human interaction with the instruments. Although there are small hooks, chords and note repetitions, there is no essential melody played and there are no thematic changes for different characters. The reason being that the audience is always with the main character Charley, so it's essentially his score. It's really about trying to convey his different, albeit complex, moods throughout the film – mainly with tones and sounds as opposed to melodies and notes. It's a very atmospheric and sparse score, although it is sonically diverse and multi-layered," said James of his score.
James worked closely with Lean On Pete director Andrew Haigh to accomplish what he had envisioned the score to sound like. "Andrew's compassion and empathy helped guide me to a place where the score needed to be. This is the fourth time I've worked with him and each time I manage to lose myself in the creativity of it all, which in the film world, with tight deadlines etc., can be a pretty hard feat. Andrew's preferred score style is very much non-leading, or giant sweeping, epic scores; the music needs to be woven within the fabric of the picture and if we could convey what we needed to with even a single sound or note, then all the better. It sounds so simple as a game plan, and it sounds so simple to watch, but it's actually quite challenging. This is what I like most about working with Andrew – especially in an age where it seems that most directors want bigger and bigger film scores, it's very refreshing to do something different. So I love that challenge of creating music that is subtle, yet impactful, and collaborating with Andrew makes me question every single sound and its importance to the story."
Newsletter
Enter your e-mail address to receive weekly soundtrack and film score news: