Varese Sarabande Announces 'Bad Samaritan' Soundtrack
MAY 1, 2018 | Submitted by The Krakower Group / Soundtrack.Net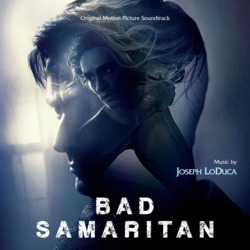 Varèse Sarabande will release the Bad Samaritan – Original Motion Picture Soundtrack digitally and on CD May 4, 2018. The album features original score composed by Joseph LoDuca (Ash vs Evil Dead, Spartacus).
"After making music together continuously for the last decade and a half, Bad Samaritan is our first feature film collaboration," said director Dean Devlin, who has collaborated with LoDuca on such series as Leverage, The Librarians, and the mini-series The Triangle. "Joe and I have covered nearly every genre and style of music together, but this time we pushed ourselves into new ground."
In Bad Samaritan, two young men who valet cars at a local restaurant develop a clever scam to burglarize the houses of the restaurant's customers. Things go smoothly until one robs the wrong customer and discovers a woman being held captive. Afraid of going to prison, he leaves the woman and returns the car to the restaurant. Filled with guilt, he makes a call to the police, who find nothing when they investigate. Now, the valet must endure the wrath of the kidnapper who seeks revenge on him, all while desperately trying to find and rescue the captive woman he left behind.
Devlin was ecstatic about the important part that Joseph LoDuca's kinetic music played in the film. "We open with a lush theme that reflects the heart of our Irish immigrant hero. Before long, we are thrust into a world of fear and dread and Joe constantly ups the stakes with nerve- wracking crescendos. It is only during the last shots do we get to breathe again when Joe gives us a most satisfying resolution. So listen in the dark if you dare, and re-experience the perfect soundtrack to the story of the Bad Samaritan who was desperate for redemption."
Newsletter
Enter your e-mail address to receive weekly soundtrack and film score news: