'Shock and Awe' Soundtrack Released
JULY 13, 2018 | Submitted by The Krakower Group / Soundtrack.Net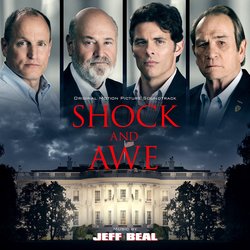 Today, Music.Film Recordings and Varèse Sarabande releases the Shock and Awe – Original Motion Picture Soundtrack digitally and on CD July 13, 2018. The album features original score composed by Emmy Award Winner Jeff Beal (An Inconvenient Sequel: Truth to Power, House of Cards).
"Legendary director Rob Reiner used archival footage of George W. Bush, Colin Powell, and Donald Rumsfeld, to chilling effect, much like Oliver Stone did in JFK," said Beal, who was greatly influenced by John Williams' work on the aforementioned JFK. "I imagine that Shock and Awe is a bit of homage to his work; orchestral, harmonically complex, and using the tropes of 'patriotic music' trumpet, brass, drums, but with a sense of loss, gravitas and ache."
In 2003, the White House administration made a case for the invasion of Iraq. The facts didn't add up, and only one team of journalists got the story right. Shock and Awe is the true story of these journalists, and what it is like to hunt for the truth when the stakes are life, death, and American democracy.
"Our film celebrates the real life journalists heroes who were striving to debunk the false information of Saddam's 'weapons of mass destruction' used to justify the 2003 Iraq War, in the wake of 9/11," Beal described. "Even though our film is essentially a docudrama, it also plays very much like a political thriller ala All the President's Men and I wanted to write a visceral, suspenseful, and emotionally invested score."
Given the strained relationship between the press and politicians the past few years, the message of the film became very timely. "Rob started making Shock and Awe before the 2016 presidential election, By the time we were in post, Trump had won the presidency, and we all felt the message of the film was even more important and relevant, given the current debates about 'fake news' and objective facts.
Newsletter
Enter your e-mail address to receive weekly soundtrack and film score news: