Sony Classical Announces 'Puzzle' Soundtrack
JULY 27, 2018 | Submitted by Sony Classical / Soundtrack.Net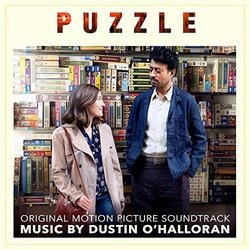 Sony Classical proudly announces the release of Puzzle (Original Motion Picture Soundtrack) with original music by Oscar and Golden Globe nominee Dustin O'Halloran. The soundtrack is available now. The movie opens in U.S. theaters today.
Directed by the producer of Little Miss Sunshine, Marc Turtletaub, and starring Golden Globe nominee Kelly MacDonald, Puzzle tells the story of Agnes, who, taken for granted as a suburban mother, discovers a passion for solving jigsaw puzzles that unexpectedly draws her into a new world, where her life unfolds in ways she could never have imagined. Written by Oren Moverman, the movie also stars David Denman, Austin Abrams, Bubba Weiler, and Liv Hewson.
Dustin O'Halloran says about the soundtrack:
"When I saw the first cut of Puzzle I was moved by how such a simple story could be so affecting. I felt a great connection with director Marc Turtletaub and Kelly Macdonald's incredible performance instantly drew me. It was that from which I drew my inspiration and which helped me find the sound of her internal world as she slowly discovers herself and begins to see the world in a new light. I wanted the score to have a minimal sound in order to leave space for the performances of the actors, so I decided on a chamber sound consisting of piano, string quartet, harp and woodwinds.
For the last track [Horizons], I wanted to see if one of the themes I had been working on could be turned into a song and create this feeling of our character Agnes being in full bloom towards the end of the film. I sent the track to my dear friend Ane Brun who created the beautiful melodies and words that perfectly captured this feeling. Her voice always takes me to another world, and it was exactly this transformative quality that the ending of the film asked for."
Newsletter
Enter your e-mail address to receive weekly soundtrack and film score news: