'The Meg' Soundtrack Released
AUGUST 3, 2018 | Submitted by The Krakower Group / Soundtrack.Net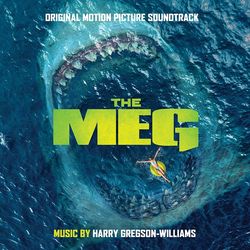 WaterTower Music has announced today's release of the soundtrack to the science fiction action thriller The Meg, directed by Jon Turteltaub, which will be released in theaters August 10, 2018. The soundtrack features music from the film composed by Harry Gregson-Williams, and will be released on August 3rd, one week before the film is in theaters.
Harry Gregson-Williams is one of Hollywood's most sought-after composers, whose scores span the spectrum of high-profile projects from action to drama to animation – each infused with the emotional punch and atmospheric intensity that mark his distinctive musical style. The Golden Globe- and Grammy Award-nominated composer offers, "For The Meg, I set out to create a memorable recognizable sonic motif which follows the mystery of the great Megalodon—something robust in nature, which acted as a kind of warning call and instilled an immediate sense of fear and suspense when signaled. In search of this sound, I stumbled upon the conch as an instrument of musical focus. Its call was both distinctive and ancient, and I felt it offered a voice to the vast terror of a concealed underwater world.
"Working with Jon Turteltaub has been one of the most enjoyable collaborative experiences I've ever had the pleasure of being a part of," Gregson-Williams continued. "He would arrive at my studio bringing with him the unbridled optimism and unique humor that only Jon possesses. He regularly took the time to remind me that the film should always feel fun, exciting, and anticipatory, and encouraged me to direct that positive energy into the music at each step of the process. In the end, I hope I was able to achieve an edge-of-your-seat score that helps the audience to immerse themselves in this dynamic feature film that Jon so masterfully created."
Newsletter
Enter your e-mail address to receive weekly soundtrack and film score news: