WaterTower Music to Release 'The 100' Season 5 Soundtrack
AUGUST 23, 2018 | Submitted by Defiant PR / Soundtrack.Net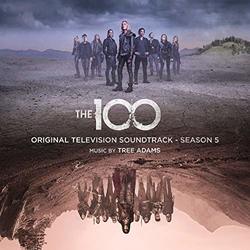 Tree Adams and WaterTower Music will release The 100 Season Five Original Television Soundtrack, available worldwide August 24th via all major digital retailers. The album will feature 26 original tracks from Adams' epic science fiction score to The 100 season five.
"Jason Rothenberg's vision for season five was once again dark and epic in scope, presenting many exciting challenges from the compositional perspective", said Adams. We have an ever-widening palette on this series and this season was no different, as we began to incorporate woodwinds, operatic vocals, and a whole slew of new industrial sound design elements. As always, we have some bold melodic themes and we cover a deep range of emotional territory—from loves lost to literal planets and worlds lost. The genre of science fiction often inherently allows a composer a great deal of creative latitude. This has certainly been the case for me with The 100. It has been a wonderful challenge, a joy and an honor to inhabit this world and to accompany this tale with music."
Over the last four seasons, The 100 have fought to survive against unimaginable odds, only to see the world end for a second time. Season five begins six years later, with our heroes still separated: Bellamy's team in space, Clarke on the ground, and hundreds trapped in the bunker below. But when a massive prison ship descends upon the last survivable place on earth, The 100 must come together to reclaim their home. As two armies converge on one valley, alliances will shift, friends will become foes, and the march to war threatens to destroy all that's left of the human race. Can our heroes break the cycle, or is humanity doomed to repeat the past? In this epic battle for survival, one thing is certain: there are no good guys.
Based on the book series by Kass Morgan, The 100 is from Bonanza Productions Inc. in association with Alloy Entertainment, Warner Bros. Television and CBS Television Studios with executive producers Jason Rothenberg and Leslie Morgenstein.
Said Jason Rothenberg, Executive Producer of The 100, "Once again, Tree has surpassed himself in creating a beautiful soundtrack for our show. The music he composes builds worlds and elevates every scene, creating the perfect atmosphere and tension. The guy is a musical storyteller, who elevates and helps define what The 100 is."
Newsletter
Enter your e-mail address to receive weekly soundtrack and film score news: