'Papillon' Soundtrack Released
AUGUST 24, 2018 | Submitted by White Bear PR / Soundtrack.Net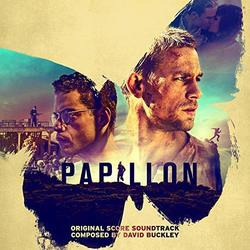 BMG has digitally released the highly anticipated Papillon - Original Motion Picture Soundtrack, which features the film's original score by Emmy-nominated composer David Buckley. Papillon, starring Charlie Hunnam and Rami Malek, directed by Michael Noer and produced by Joey McFarland, David Koplan, Ram Bergman and Roger Corbi, is a remake of the highly-regarded 1973 adventure crime drama. The film is based on the international best-selling memoirs of Henri Charriere. The soundtrack has been released digitally today, August 24th, to coincide with the national theatrical release.
David on his approach to scoring a remake of a classic film:
"When I first heard that Papillon was looking for a composer I was keen to put my hat in the ring but was also a little bit intimidated given how much love there is for the original. As soon as I was offered the job, I re-watched the original and listened to Jerry Goldsmith's score. I knew how much audiences loved his score (myself included), but I knew it would not inform what I was going to do on this new version.
We knew we wanted something different for our film, but it was initially unclear what that should be. I was fairly certain that the score did not need to overtly comment on the violence and brutality already graphically displayed on screen; if anything, it would be useful to offer a counterpoint to that. And at that point we had the idea of making a boy choir a feature of the score. To that end, I was very pleased to be able to enlist Wells Cathedral Choir in England, one of the finest cathedral choirs in the world. This came full circle for me, as my own musical journey began in 1986 when I joined the same choir as a boy singer and also because my curiosity about film music began there. In addition to the choir, I used organ, viola da gamba, solo cello, electric trumpet (often with the trumpeter singing through the mouthpiece) and electric violin. And to round this out, I used a full string orchestra.
I would consider this score to be my closest thing to an 'art score'. I've worked on many thrillers and action films over the years, and quite often the job has been about providing pace or tension or pure adrenaline. With Papillon, I felt more than ever that the score could be its own character. Michael Noer (director) and Joey McFarland and David Koplan (producers) and John Axelrad (editor) all firmly encouraged my approach and gave me the confidence to write. Working on a remake is inherently tricky as the new will always be compared with the (revered) old. I think the beauty of this new film is that it will bring a classic to a newer audience. Charlie Hunnam and Rami Malek both do a fantastic job. The scenery is gorgeous. The drama is real. And hopefully the score is a worthy addition to this new telling of an old story."
Newsletter
Enter your e-mail address to receive weekly soundtrack and film score news: