WaterTower Music Announces 'Smallfoot' Soundtrack
SEPTEMBER 7, 2018 | Submitted by WaterTower Music / Soundtrack.Net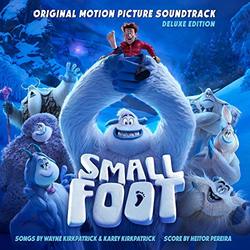 WaterTower Music announced today the details of the soundtrack to Smallfoot, an animated adventure for all ages, which will be in theaters on September 28, 2018, from Warner Bros. Pictures and Warner Animation Group.
The soundtrack features the Niall Horan song "Finally Free," that plays over the end title sequence, plus original new songs written by Wayne Kirkpatrick and "Smallfoot" director Karey Kirkpatrick, with several performed by members of the film's all-star cast. "Wonderful Life" is performed by Zendaya, "Let It Lie" is performed by Common, "Perfection" is performed by Channing Tatum, and "Wonderful Questions" is a duet performed by Tatum and Zendaya. The collection further includes "Moment of Truth," written by the Kirkpatricks and performed by CYN – the breakout artist signed to Katy Perry's Unsub Records; and "Percy's Pressure," a karaoke version of the classic '80s hit "Under Pressure," performed by James Corden, with additional lyrics by Wayne and Karey Kirkpatrick, the Tony-nominated songwriters from the acclaimed Broadway musical "Something Rotten!"
The album also includes 18 tracks from Grammy-winning Brazilian composer Heitor Pereira.
Newsletter
Enter your e-mail address to receive weekly soundtrack and film score news: