Milan Records Announces 'King of Thieves' Soundtrack
SEPTEMBER 14, 2018 | Submitted by White Bear PR / Soundtrack.Net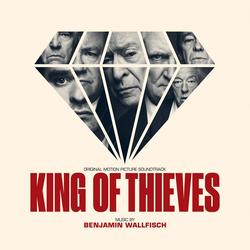 Milan Records is releasing the Original Motion Picture Soundtrack for King of Thieves today on digital platforms, with CD and LP releases to follow.
The film (starring Sir Michael Caine, Sir Tom Courtenay, Sir Michael Gambon, Charlie Cox, Jim Broadbent, Paul Whitehouse and Ray Winstone) tells the story of the notorious Hatton Garden diamond heist and will release theatrically today in the U.K. It is directed by Oscar winning director James Marsh and produced by Working Title's Tim Bevan and Eric Fellner, Michelle Wright, Ali Jafaar and Amelia Granger.
The original score by Golden Globe®, BAFTA®, GRAMMY® and Emmy® nominated composer Benjamin Wallfisch features full big band and in the composer's words is "a love letter to the 60's."
"The complete score becomes a tapestry of musical surprises – which is the great virtue of all Ben's work," said director James Marsh.
"In our initial discussions, Ben and I had found a common inspiration in the work of John Barry. We wanted that kind of mysterious, lush, retro feel to our score but reimagined for the 21st century through Ben's unique sensibility. Thus, the Cimbalom and our other key instrument, the Wurlitzer. But there's quite a bit more to the score than that. The musical voice of the police investigation is inflected with spacey electronica. The main heist is a raucous, exuberant re-working of Tchaikowsky's Dance of the Sugar Plum Fairy as played by a big band.
The music here can be enjoyed happily away from the film, but I don't think the converse is true. As with all the best scores, the music in King of Thieves is the air the film needs in order to breathe."
Newsletter
Enter your e-mail address to receive weekly soundtrack and film score news: