Troye Sivan's & Jónsi's 'Revelation' from 'Boy Erased' Soundtrack Released
OCTOBER 18, 2018 | Submitted by Back Lot Music / Soundtrack.net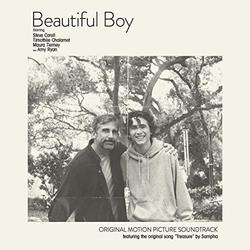 Focus Features and Back Lot Music announce the release of "Revelation", the new original song by Troye Sivan & Jónsi written for the feature film Boy Erased. The soundtrack to the film – featuring an additional original song by Jónsi and score by Danny Bensi & Saunder Jurriaans - will release digitally on 10/26 and physically on 11/2 with the film's theatrical release in select theaters nationwide. A vinyl component will be issued later this year with Music on Vinyl.
Boy Erased tells the courageous story of Jared (played by Lucas Hedges), the son of a Baptist pastor in a small American town, who is outed to his parents (Nicole Kidman and Russell Crowe) at age 19. Jared is faced with an ultimatum: attend a conversion therapy program, or be permanently exiled and shunned by his family, friends and faith. Boy Erased is the true story of one young man's struggle to find himself while being forced to question every aspect of his identity. Sivan also acts alongside Hedges as Gary, a fellow conversion therapy student.
Sivan talked about writing the song for the film during a recent tour stop in New York City, where he performed it live for the first time. "I got together with Jónsi of Sigur Rós and Leland. Joel [Edgerton, writer/director] showed us a scene from the movie, and I don't want to spoil anything, but it's this one moment of relief in the film. It's this one really sweet, tender moment where Jared does something that I would consider pure and beautiful and normal and romantic. He has that experience and the sky doesn't fall down on him. The world doesn't come crashing down, and it's a 'revelation' to him. That person that he was with is a revolution to him, and it was just so inspiring. So, we started with these lyrics of 'you're a revelation, you're a revolution'."
Newsletter
Enter your e-mail address to receive weekly soundtrack and film score news: